Case study
Oxsensis: optical tech firm senses aerospace opportunities
Oxfordshire SME gets the chance to demonstrate new-generation sensor technology on Airbus landing gear.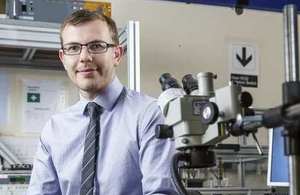 Optical sensing technology has the potential to bring really big innovations in aerospace closer to reality – such as the next generation of composite wings and all-electric aircraft.
Electrical sensors have been standard on aircraft for decades but are prone to electrical interference, so they need to be shielded from other wiring – and this adds weight.
Optical sensor solution
Optical sensors and their fibre-optic cabling solve the problem as they are immune to these effects and can also can handle multiple measurements more efficiently.
" They're not even affected by a lightning strike," said Tim Hall, senior project engineer at Oxsensis, a £1.3 million turnover company employing 22 people on the Harwell Science and Innovation Campus in Oxfordshire.
But when it comes to hostile environments, there is none much harsher than on aircraft landing gear. Temperatures vary from -55°C to 85°C, dirt and debris are thrown up by tyres and the shock and vibration of a landing is actually much greater than anything felt by the passengers.
Competitor becomes a partner
" It's a tough place for a sensor," said Tim. So that is where his company's optical sensor technology will be tested, in a project involving Airbus and another sensor SME, Smart Fibres, of Bracknell.
We're quite a small company and it was a big privilege for us to work with a giant like Airbus. Landing gear is a new area for us. To get their input on our technology development was really good.
The other outcome was more surprising: a competitor becoming a collaborative partner.
Tim explained: "We're both optical sensing companies but working together, as we did, we could actually see that our technology was complementary. Rather than displace each other, we could each produce something that was more likely to get on an aircraft."
Both companies were invited to join a follow-on project with tier 1 aerospace suppliers. Tim acknowledged that it would not have been possible without Innovate UK.
They made us and Smart Fibres work collaboratively. Normally, Airbus wouldn't speak to us. And without the funding, we wouldn't have been able to build a demonstrator.
Published 23 October 2015