Case study
Organ donation: new technology preserves life at the margins
British physiologist develops a 'universal formula' that keeps human organs functioning outside the body, with support from Innovate UK.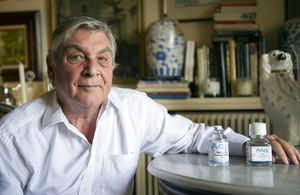 Human organ and tissue donations can have life-saving benefits for patients requiring transplants and in medical research.
According to NHS statistics over 1000 people in the UK die each year waiting for a transplant - three a day. Over 7000 patients are currently in urgent need of a transplant so the need to increase the supply of suitable organs is pressing.
Dr Doug Rees, a British physiologist and founder of UK company Aqix, has spent a lifetime developing an innovative solution, that will radically improve the process of organ donation.
With funding support from Innovate UK, he was able to develop a ground-breaking product called AQIX RS-1®, which keeps donor transplant organs and tissues functioning for 72 hours.
Normally donor material can only be kept in a useable state outside the body for 24 hours, so this is a significant innovation.
The fluid works by 'waking up' donor organs, and keeping hearts, lungs, livers and kidneys functioning and lubricated outside the body.
This greatly increases the window for storage and transportation. It can also be used to flush other preservation fluids out of donor organs.
The quest for a solution
It wasn't until Doug contacted Innovate UK in 2009 that he found the necessary resources to devote to clinical research and development.
For many years he was convinced that the substance found in the narrow spaces around organs and tissues known as 'interstitial fluid', could be replaced.
"My breakthrough insight was to use interstitial fluids - such as amniotic and synovial fluids - as the model for a manufactured solution. The answer to making it work was to adjust down the levels of calcium and potassium in the designed fluid," said Doug.
The support from Innovate UK was not only financial, it also enabled him to successfully collaborate with UK universities and organ transplant institutions.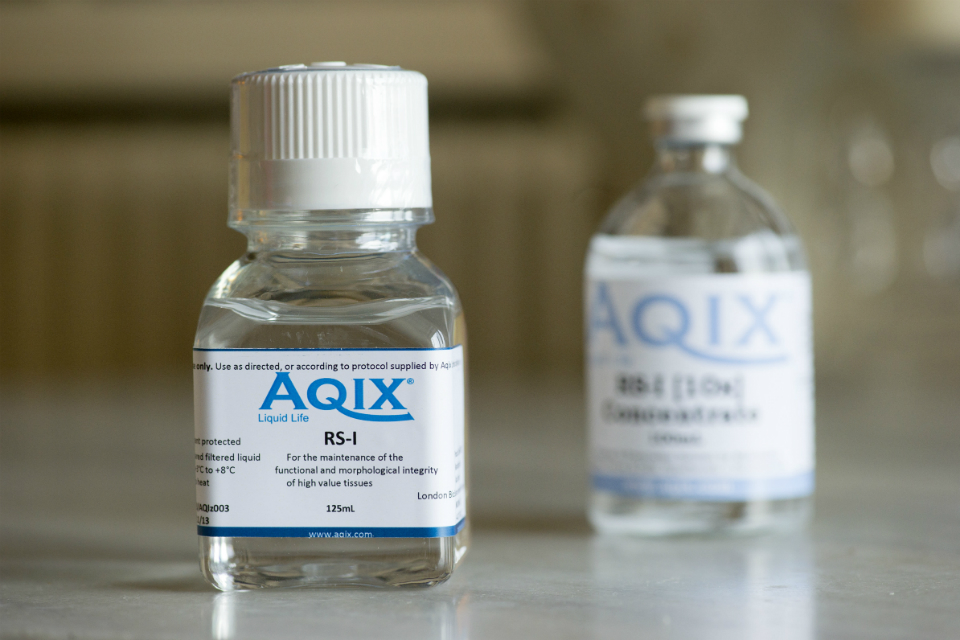 Positive results
Initially, Aqix's research focused on developing the formula for regenerating donor tissues and organs regarded as 'marginal' for transplantation.
This was followed projects researching donor organ regeneration and preserving cell, tissue and organ function in heart bypass operations.
"Thanks to support and grant funding from Innovate UK our product is already being used across the world to preserve tissues outside the body," said Doug.
"And we've shown that it could also lead to significant reductions in the risk of kidney failure after heart bypass operations and make more donor hearts viable for transplantation."
Up to 30% of patients suffer a degree of kidney failure after heart bypass procedures, making this another use for the AQIX solution that could deliver significant benefits.
"Infusing the kidneys with the AQIX RS-1® solution stops toxins building up during the operation," said Doug.
"This prevents damage and helps patients recover better and quicker since they don't need dialysis or extended time in intensive care."
Looking to the future
The potential of AQIX RS-I® is being recognised in the health sector. The EU-funded Consortium for Organ Preservation in Europe (COPE) has adopted the product for use in research studies and clinical trials.
AQIX RS-I® can only be used for laboratory research at present, but the company is seeking certifications that will allow it to be used for human organ transportation and in tissue and organ transplants in the European Union, the USA and Asia.
The aim is for the product to make the best use of available donor organs and to increase the number of organs fit for transplant.
This would mean clinical trials could start to explore its potential use as an intravenous fluid in humans. This in turn could have applications in areas like the treatment of burns, blood loss, kidney dialysis and delivery of cancer drugs.
"Innovate UK has helped me turn my lifelong dream into reality," said Doug.
"I hope our products will help transplant patients fulfill their dream of a healthier life as well."
Published 20 October 2014