Oasis shows the beauty of apprenticeships
Based in North Somerset, Beauty Oasis Spa now counts half of its workforce as either current or ex-apprentices. Apprenticeships have been at the heart of their success and become central to the business's recruitment strategy.
This case study was withdrawn on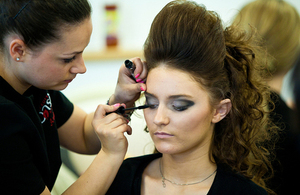 Struggling for staff
In 2008, Beauty Oasis Spa owner Sarah Hallaran was struggling to hire the right calibre of staff to meet her business needs. This difficulty became the catalyst for the business's first apprentice hire. "I spoke to my local college about how hard it was recruiting the right people. They suggested I get involved in training them myself, so that's exactly what I did," Sarah explains. "We started by offering a small number of Level 2 and Level 3 Beauty Therapy Apprenticeships, and momentum grew from there." Ten years on and apprentices have transformed the business's success. It now recruits between 7 and 10 apprentices and trainees each year.
Growing popularity
The growing popularity of apprenticeships at Beauty Oasis Spa means competition for a place is tough. "Our apprentices have to show a strong level of maturity for the workplace," Sarah explains. "We're picky about who we take on - and rightly so." Sarah says that any apprentice they hire must have a will to succeed: "We need people who want to learn and be at the top of their game. Showing consistent enthusiasm, friendliness and adaptability are really key so that our clients are made to feel comfortable and happy."
Beauty Oasis Spa has now grown to occupy 3 salons in North Somerset. Apprentices have been a key factor in this success and are a crucial asset for the business's future expansion. "When we acquire a new site, we need trustworthy staff who completely understand our business," says Sarah. "Having so many committed apprentices and former apprentices amongst our team makes growth so much easier."
The future's bright
Beauty Oasis Spa is now busy making plans to expand its apprenticeship offering yet further. "We want to create even more opportunities for young people and raise standards within the beauty industry," Sarah says. "We'd like to take on more salons, expand our head office and become a training centre of excellence that is recognised as best-in-class across the industry."
When it comes to apprenticeships advice for other small businesses, Sarah's advice is to stay committed and start small. "Focus on quality rather than quantity first and foremost," she advises. "It can be daunting at first but so worthwhile and rewarding in the end."
Thanks to apprentices, the future is bright for Sarah and her team. "Apprenticeships have been so important for our business - without them we simply wouldn't exist."
If you are interested in finding out more about employing apprentices and the benefits they can bring to a business like Beauty Oasis Spa, you can arrange a call from an experienced adviser via the national helpline on 0800 015 0400.
For information about how apprenticeships can work for your business, visit www.apprenticeships.gov.uk.
Published 27 February 2018