Case study
My journey as a Cabinet Office apprentice
Kelly Dunlea discusses her experience in moving to a permanent role in the Cabinet Office from an apprenticeship in the civil service.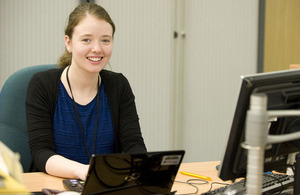 So it's been 1 year since I wrote about my experience as an apprentice last, and what a year it's been! I've gained so much more confidence, developed a variety of new skills and participated in some exciting events.
Back in March 2013 I had been an apprentice for just over 3 months and was still adjusting to working in the civil service. This was originally an 18-month placement so I wanted to ensure I made the most of my time in government before it would all come to an end.
At this point I had no idea I was to complete my studies 7 months ahead of schedule in December 2013 and gain permanency within the Cabinet Office. I am now writing this as a recently graduated apprentice who has been a permanent civil servant for the past 6 weeks.
Just as I initially had to adjust to being an apprentice within government, I am now adjusting to being a fully-fledged civil servant kicking off my career in the public sector.
I still feel as though I am in the 'apprentice mind-set', expecting to receive a tutor visit or submit evidence towards my unit modules.
Although I no longer to need to do these tasks I won't forget my journey into the civil service and will continue to promote and support apprenticeships within government. I've already started doing this since becoming a permanent member of staff - for instance, I organised a networking event for apprentices across government in January 2014 and showcased government work to students at a careers fair in London. I look forward to organising and participating in events like these in the future.
A degree is not the only ticket to become a civil servant and I am proof of this.
Published 7 March 2014