Case study
Magma: leading oil companies adopt UK-developed sub-sea piping
Business supported by Innovate UK poised to benefit from multi-million-pound deals for its high-quality, high-strength and low-weight composite piping.
Portsmouth-based Magma Global is poised for rapid growth after several world-leading oil companies and contractors signed deals to use and develop its innovative m-pipe for sub-sea operations.
m-pipe is made from a high-performance carbon fibre and high-performance polymer supplied by UK company and Magma investor and partner Victrex.
It can reliably transport fluids in environments that are challenging for traditional materials such as steel and other plastics.
Chief operating officer Charles Tavner said:
We are a tenth of the weight of equivalent products. We are very flexible and very corrosion resistant. This reduces the cost to install m-pipe, and the longevity and robustness mean the ongoing costs are significantly lower.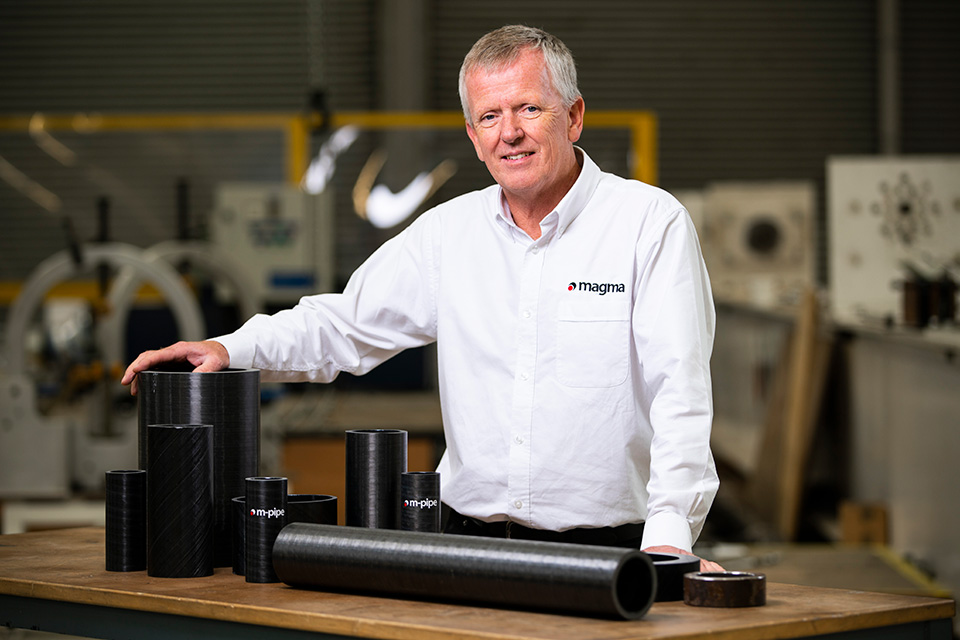 Projects demonstrated qualities of new pipe
The pipe's qualities have been proven in the notoriously risk-averse oil and gas industry through a number of projects supported by Innovate UK.
These included the most recent m-Jumper project set up to demonstrate the effectiveness of 6-inch m-pipe for transporting fluids on the sea bed. The project also tests the connecting jumpers and the flowline; a pipe which connects the surface with the subsea well.
Following the tests, major Norwegian oil company Equinor, previously Statoil, has announced its support of the project.
The work has unlocked major new deals with companies including Brazilian offshore contractor Ocyan and global leader in offshore technologies TechnipFMC and led to the sale of 5km of piping to leading African company Tullow Oil.
Together, these deals could see Magma products worth hundreds of millions of pounds installed in oil fields across the world in future years.
Magma is now looking to scale up its manufacturing including adding facilities in Brazil and Saudi Arabia.
Support helped Magma to bridge the gap
Magma Global won Innovate UK support for three projects between 2012 and today.
Charles added:
Our product is pumping oil on to a facility and rightly needs to be tested in a lot of different ways. Your typical customer is going to struggle to make a direct investment in a business to complete all the development work required.
But those customers recognised they needed our product to lower their costs and improve efficiency and performance. Customers and suppliers were all willing to commit significant investment, but the scale was huge. Innovate UK was a catalyst, it bridged the gap and made it possible.
In 7-to-8 years Magma has gone from a business of 4 people in a small office in Portsmouth to a company contemplating the projects we now are. Traditionally, the industry would take 20 years to do something like that.
A company that began as a technology innovator has transformed into a manufacturer exporting 90% of its products abroad. It currently employs 64 at its base in Portsmouth.
Published 29 November 2018