Case study
Macedonia: Supporting British business
The UK is among the top 5 trading partners of Macedonia. Here are 3 case studies showcasing how our Embassy in Skopje supports British business.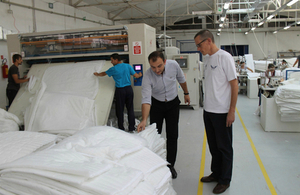 Johnson Matthey Catalysts
Johnson Matthey represents a specialised chemicals company and a world leader in advanced materials technology, focused on catalysis, precious metals, fine chemicals and process technology. They currently have 550 employees in Macedonia with target to reach 650 by end of 2014. They are expanding their Macedonian operation with a second plant being built at the moment.
Mike Byrne, Supply Chain Manager:
Johnson Matthey established a state-of-the-art autocatalyst facility in late 2009. As the company's first manufacturing site in the Balkans, the support provided by the British Embassy proved extremely valuable both in terms of helping to navigate Macedonian bureaucracy and in developing a network of contacts. The company is now the largest exporter in the country, employing 550 people, and continues to work closely with the Embassy in supporting the local community with a strong emphasis of promoting British values and business interests in the country. The combined successes were recently reflected through glowing feedback during a recent visit by the company's Board of Directors.
International Currency Exchange
The country office in Macedonia is part of the International Currency Exchange network. They have operated in Macedonia since 2012 and have 6 employees at the Skopje airport. Their main functions are exchange and cash processing for an airline.
Paul Glossop, Managing Director - EMEA:
Having been left frustrated, bemused and disenchanted after many unsuccessful months trying to resolve various complex business issues in Macedonia using professional and very costly local legal advice, I thankfully contacted the British Embassy in Skopje to seek their help and guidance.

Within days of their intervention positive contacts and swift progress ensued, resulting in all outstanding matters being satisfactorily completed in a matter of weeks. The commitment, attitude and expertise of Embassy staff assigned to deal with the problems my company had encountered were exemplary from start to finish.

On this basis, I would wholeheartedly recommend to anyone considering opening a commercial enterprise in Macedonia, that they first seek advice from the British Embassy.
Comfy Angel
Andrew Bruce, Director of Comfy Angel:
Comfy Angel is a joint British-Macedonian venture which is celebrating it's 10 anniversary in 2014. They manufacture duvets, pillows, mattress covers and bedding and supply major UK retailers. Located in Prilep, Macedonia they employ around 900 people. The directors and shareholders of the company are Andrew Bruce from UK (who lives in Macedonia) and Irena Jakimovska from Prilep.
Comfy Angel has a very good relationship with the British Embassy in Macedonia. We are regularly in contact and attend their British Business forum whenever it is held. With this, together with other British companies in Macedonia we can discuss the challenges of working here and also discuss problems and difficulties which we share. Together, we have a stronger voice and when necessary, our message can be passed into the respected government channels through the Embassy.

With the Embassy, we also share an interest of supporting corporate social responsibility. Recently the whole of the Embassy team came to Prilep and together, we helped to renovate our local disabled children's school. It was a very nice day and a very well organized event. Seeing the kids enjoying themselves at the same time was heartwarming. We also had fun too getting up to our necks in coloured paint. And at the end of the day, a slice of birthday cake. What could be better?

For the future, we are very positive that we have the right support from the Embassy. It's good to know they are there on our side and are willing to help no matter what. Another advantage is that the Embassy staff is easily reachable, Joana Babusku, Christine Winterburn and even the Ambassador himself, Mr Charles Garrett are easily accessible which is quite refreshing from a business point of view.

Thanks to all the staff at the Embassy then for your support, from all at Comfy Angel, Prilep.
Published 28 October 2014