Case study
Luke – Without the Fairbridge programme I'd either be in jail or dead
How the Fairbridge programme helped a gang member, who was excluded from school, turn his life around and get a job as a youth worker.
This case study was withdrawn on
We have archived older case studies about social justice and published more up to date case studies.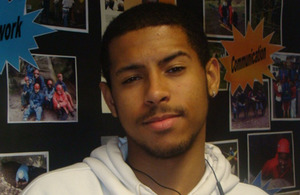 Two days after his mother's funeral, Luke was excluded from school and he got involved in a local gang. With support from the Fairbridge programme he started a bricklaying course, has spoken at corporate events and is a youth worker.
Luke's story
Luke was 13 when his mum was diagnosed with breast cancer. He started doing poorly at school and causing trouble. A year later, just two days after his mother's funeral, Luke was permanently excluded from his school for bad behaviour.
Luke became a member of a local gang and was soon excluded from a second school.
"I'd gone off the rails," said Luke. "I was involved in gangs, causing trouble and getting kicked out of school. I heard about the Fairbridge programme from my Connexions worker and he told me that I could get qualifications there. My grandmother nagged me about it, so I went to the centre in Kennington to give it a try."
An individually tailored personal development programme
The Fairbridge programme is an individually tailored personal development programme for 13-25 year olds that combines one-to-one support and group activities. Having become part of The Prince's Trust earlier this year, the programme helps change young lives through 15 centres across the UK. With support, young people build skills in four areas – employability, independent living, learning, and community and recreation. Once ready, staff assist young people in moving on to a positive next-step. Last year, more than three in four young people supported by The Trust moved into work, education or training.
Luke signed up to an Access Course – a range of challenging outdoor activities such as climbing, canoeing and caving – designed to build confidence, develop team work and challenge negative behaviour. Luke failed to complete the Access Course, but staff on the programme gave him another chance to do it.
The Fairbridge programme helped me take on my own responsibilities
Luke explains: "I wasn't in the right frame of mind to do it, but the best thing about the Fairbridge programme is they let you have another go. No one judges you. Everyone is really friendly and wants to help. I completed the Access Course the second time and I turned 16 a couple of weeks later.
"With the support of my Outreach and Development Worker I started focusing and doing longer courses like health and safety, team bonding and cooking. If you don't complete a course it's upsetting because you know it's your own fault for missing out. The Fairbridge programme helped me take on my own responsibilities and grow up. It felt good."
Luke's commitment led to him being offered a place on the Youth Ambassador Programme (YAP) offered by the Fairbridge programme, which began in early 2011. The YAP provides young people with unique opportunities to gain work experience, training and development.
Luke based his YAP project on youth unemployment and crime. Mentored by Sunday Times journalists, he researched the issues, interviewed key people and created a film of his findings.
Luke presented his film and spoke at corporate events about his experiences from his time with the Fairbridge programme, something he never imagined he would have the confidence and skills to do.
Two years ago I was in a gang. Now I'm a youth worker
Luke's success led to him being offered a place on a bricklaying course at Lambeth College. When he's not at college, Luke has a job as a youth worker through the Trainee Youth Leader Apprenticeship Programme.
Luke, now 17, adds: "Two years ago I was in a gang. Now I'm a youth worker and I'm at college building a future for myself. If someone had told me that two years ago I'd have laughed at them.
"But now I've got goals set out for a career in property development once I complete my bricklaying course and I'm also fulfilling my passion for youth work. It's really good to work with young people who have problems like I did, and to help them not make the same mistakes as me.
"The Fairbridge programme is like a second family, they take you away from all the stresses of home, talk to you on an equal level and give you light. Without them I'd still be in a gang, which in the real world means I'd either be in jail or dead."
Published 16 April 2013