Case study
Love Your Local Market
Over 920 places took part in this year's Love Your Local Market and for the first time Italy, Spain, France and Holland joined in.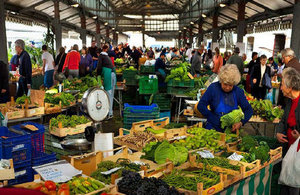 Over 920 places took part in this year's Love Your Local market delivering over 7,000 pitches to new businesses in the UK alone. For the first time, Love Your Local Market went international with France, Italy, Spain and Holland taking part. Ireland, Poland, Hungary, Greece, Cyprus, the Lebanon, Slovenia and Slovakia are set to join next year.
Here are some of this year's highlights…
United Kingdom
Vintage market
High Streets Minister Brandon Lewis kicked off this year's Love Your Local Market at the historic Market Place in Kingston upon Thames. This market place has been a major trading centre since 1170 when Henry II was on the throne. Opening day saw new traders join in the celebrations with a vintage market, artisan food stalls, arts and craft.
World War Two brought to life in Durham
As part of the fortnight's celebrations, shoppers and visitors in Durham were able to enjoy the sights and sounds of the 1940s over the bank holiday weekend. Activities included a living history tableau presented by Yesterday's Heroes, a range of military vehicles, and a nostalgia market which gave shoppers the chance to browse and buy a wide range of vintage goods, antiques and second hand items.
Stilt walking bugs and balloon artists, Northampton
A 'Love Your Market' Day was held in the Market Square in Northampton to try to encourage people in the town to support their local traders. Activities included stilt walking bugs, balloon art and comedy waiters. New traders were able to take advantage of one of the free pitches available on the day.
Local poet celebrates Swansea Market
A postgraduate student brought the sights and smells of Swansea Market to life in a new video which shows stallholders reciting verses by local poet David Hughes. The film was made to promote the delights of Swansea Market during the Love Your Local Market fortnight.
Fire eaters entertain in Darlington
40 traders came to the town to celebrate the fortnight which featured live music and family entertainment, including circus performers, fire eaters and stilt walkers. The event ran alongside the Distinctly Delicious Darlington Festival of Food, which showcased street theatre performances, cookery demonstrations, outdoor cinema screenings and a giant cake version of Locomotion – the world's first passenger engine on the Stockton and Darlington Railway in 1825.
Tables for a tenner, Camden
Queen's Crescent Market in London has been operating since 1862. Rumoured to be London's oldest market, it's still very popular with locals. One of the first Sainsbury's stores was at number 159 and Mr Sainsbury lived above the shop. The market sells discount everything – clothing, flowers, and household items. There's also a selection of food stalls selling international cuisine at very reasonable prices. Camden council offered new traders tables for just £10 to try their hand at selling their products. If you missed the Radio 4 You and Yours feature on Queen's Crescent Market, you can listen again
Ministry of Food in the Market, Keighley
Housing Minister Kris Hopkins saw Keighley market's celebrations firsthand. Love Your Local Market teamed up with Jamie's Ministry of Food in the market and showcased live cookery demonstrations and invited children from local schools to come along and cook with their class mates. The council offering a number incentives for new traders to try their hand at business including 6 months half rent, no deposit, business rate relief, business support and advice. They are also offering existing traders help to maximise their use of social media.
Youth markets - Bury St Edmunds and Haverhill
Pitches were offered free of charge to 16 to 24-year-olds in Bury St Edmunds. It gave entrepreneurs of the future the chance to market test ideas, develop their social skills by interacting with the public and nurture a taste for business. Other activities taking place included street music, street art and family activities.
New Traders - Ashton-under-Lyne Market
This awarding winning NABMA Market of the Year Award for Britain's Best Market, welcomed a host of new traders who took part in a full programme of events including balloon giveaways, cheerleaders, food demonstrations, live radio broadcasting and the local brewery bringing a horse drawn wagon as part of the celebrations. Guest appearances included traders from the local farmers market.
Shiver me timbers in Plymouth
The Pirates of St Piran moored offshore in Plymouth during the fortnight in a real pirate ship. They were joined by dastardly smugglers from across Cornwall and Plymouth who set up a pirate themed market. Activities included going on board the ship, witnessing cannons firing, pirates singing, a huge pirate bouncy castle, long bow archery, falconry displays, pirate storytelling, hog roasts and treasures being split. There were also helicopter trips taking people on trips up the coastline.
Double award-winning Market Rasen
Markets in Market Rasen have been transformed over the past 2 years since the local Business Improvement Group won Portas pilot status in May 2012. For the market fortnight, visitors had the choice of almost 40 stalls in the historic Georgian market place selling a wide variety of wares from artisan food, cakes, cheeses, locally grown cut flowers and plants, to an array of unusual and distinctive gifts from the very best local market traders.
Market Rasen has won the following National Association of British Market Authorities (NABMA) Awards for the last 2 years running:
Britain's Best Small Speciality Market of the Year 2013
Britain's Best Social Enterprise Market of the Year 2014
International
Turin, Italy
As part of Love Your Local Market's global reach, the city of Torino held an event called "Cinema al Mercato" where visitors were treated for free to movies about markets projected under the roof of the Porta Palazzo farmer market. People also had the opportunity to taste food offered by the Conservatoria delle Cucine Mediterranee in collaboration with the Chefs of Torino Association. Hundreds of people attended every night, not only boosting the economy but demonstrating the role markets play in creating a community atmosphere.
Barcelona, Spain
From 15 May to 7 June, Mercats de Barcelona are organising more than 60 activities, like the tasting nights, vintage fairs and an appetiser competition in Sant Antoni market. Among the gastronomic activities there will be night teas, cooking workshops, karoke, modernist posters and a flashmob with choral singing in Barceloneta market. There will also be child's activities, commercial promotion and solidary others. Read a full list of activities
Paris, France
The French Love Your Local Market campaign 'La Grande Quinzaine des Marches' kicked off with 100 retail markets in the city of Paris on 16 May which continued until 25 May. Market visitors had the chance to win electronic Smartbox cabinets, gift baskets and shopping carts throughout this period.
Published 28 May 2014