Case study
Kevin, West Bromwich: Work Programme real life story
'I was feeling demoralised and downhearted about finding work. My adviser gave me all the help I needed to regain my confidence.'
This case study was withdrawn on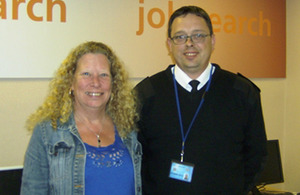 Kevin started on the Work Programme after being unemployed for just over a year, having been made redundant from his job as an office manager. He had been applying for various jobs by himself without success. Kevin's adviser at PPDG helped him to broaden his opportunities by considering other roles. She encouraged him to complete a security industry training course, where he gained his Security Industry Authority (SIA) licence.
She contacted a local security company on Kevin's behalf and secured him an interview.
The company, Secur-IT offered Kevin a job as a static guard immediately, with the option of further training to help him progress further in the security industry.
The Work Programme is part funded by the European Social Fund.
Published 15 April 2013