Case study
JHS brings music to new markets
UK government spported JHS as it expanded its exports to 95 countries, now accounting for 20% of its £12 million turnover.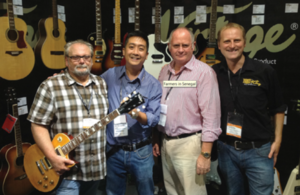 This company was assisted by UK Trade & Investment (UKTI), which has since moved to the Department for International Trade (DIT).
John Hornby Skewes and Co. (JHS) is a leader in the design, manufacture and worldwide distribution of musical merchandise, instrument amplification and pro-audio equipment. UK Trade and Investment (UKTI) have provided ongoing support for JHS for several years. Most recently, UKTI has helped the company find local partners in Japan, Malaysia and Taiwan, which together now bring in around £200,000 of revenue a year.
Export push
In 2009, JHS embarked on a push to increase its international business, which at the time came from around 20 countries. UKTI was on hand to offer advice, guidance and support. The company received funding through the Tradeshow Access Programme (TAP) towards the costs of attending a number of tradeshows between 2012 and 2015. These included Musikmesse, Music and NAMM.
As a result of attending the tradeshows, JHS collaborated with well-known guitarists Parker Lundgren and Jerry Donahue to create custom guitar ranges and promote JHS' brand. Adam Butterworth, Export Sales Manager, JHS said:
We have recognised for many years that if we want to develop our exports it's crucial that we are seen at music events.

The TAP funding that we have had from UKTI helps us to secure a bigger and better presence at a show, take a broader range of products and even exhibit in more than one area. Often people we meet at these shows go on to work with us.
Heading East
In 2008, JHS commissioned and Overseas Market Introduction Service (OMIS) report asking UKTI in Japan to help identify suitable local partners.
Adam followed up with a market visit, part funded by UKTI, to meet some of the people identified in the OMIS and nurture relationships with them. One particular company emerged as a good match and came to Musikmesse 2009, where a distribution deal was struck. JHS products were launched in Japan in 2010 and this market is now one of the company's most productive. UKTI supported a similar 4-day market visit to Malaysia and Taiwan in October 2013, which JHS tied in with exhibiting at Music China. In November 2013, the company signed an exclusive deal with LBS Music World to distribute its 3 major guitar brands in Malaysia.
Adam said:
When you are doing business overseas there's an element of trust involved, so it's crucial to find the right partners. UKTI's support in enabling us to meet potential prospects in person has allowed us to make informed, confident decisions about who we work with.
Crediting UKTI
JHS is certain that working with UKTI has been a factor in its export success.
Adam said:
UKTI helps companies realise that there is a whole wide world out there, and to identify and access global opportunities. They have expertise and local contacts that can help get your products to markets, and our association with them gives us credibility.

The first step can be the most difficult - without UKTI's support in some of these markets, we may not have got on the plane, organised meetings or set up business partners. Thanks to the well organised, coherent support and guidance of UKTI, our path to ever increasing export success is made much easier.
About JHS
JHS, which celebrates its 50th year in business in 2015, was started in 1965 by John and Madge Skewes from their home in Garforth, near Leeds. Now based at a purpose-built warehousing complex spread over a 4 acre site on the outskirts of Garforth, JHS has 82 employees. JHS secured its first international customers in 1965, joining a government-inspired export market drive.
The JHS catalogue features over 4,000 products under 50 brand names.
Fast facts
Company: John Hornby Skewes & Co. Ltd
Published 4 March 2015