Case study
James – I'm very hopeful of finding work after I leave prison
How the Prisons Information Computer Technology Academy gave James the chance to gain qualifications, experience and help fight his depression.
This case study was withdrawn on
We have archived older case studies about social justice and published more up to date case studies.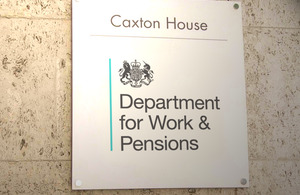 3000 miles from home, James was feeling hopeless and destitute. He'd just finished a three year sentence in a New York prison for drugs and alcohol offences when he was deported to London. Having been born in the UK and moved to the USA at a young age, he now found himself with nowhere to live.
Now in London, he continued to take drugs. James was given shelter by Prisoners Abroad, a charity that supports Britons imprisoned overseas, and from there was linked up with a charity for homeless people called St Mungo's. With St Mungo's, he was able to find employment, working as an administration assistant, first in a voluntary role, and eventually in a paid capacity. Despite this, James remembers, he was still deeply troubled.
I was dealing with depression and struggling with my job and social things and worried about my drug problems so it was constant turmoil.
His ongoing substance abuse saw him arrested for cocaine possession and involvement in drug trafficking. James was sentenced to 9 years in HMP Coldingley, a prison where taking part in work or training is mandatory. That's where he was introduced to PICTA – Prisons Information Computer Technology Academy, where prisoners are offered the chance to learn advanced computer skills and gain accredited professional qualifications.
For most of my life I have liked technology. With PICTA I saw a place where I could learn more about computers. Coming to prison again was very traumatic and I was still depressed, but being afforded the opportunity to study full time kept me motivated.
Chris George, PICTA Manager at HMP Coldingley confirmed:
Prisoners approach and serve their sentence in a more constructive fashion if they have something to aim for such as completing one of our training courses, It encourages them to plan ahead.
James agrees.
In prison you have to find something to get motivated about. Some people find the gym… for me, it's study.
James also found that working with PICTA really helped him address his drug problem and his depression, so much so that he found he needed no specialist treatment for his addiction or mental health.
Keeping busy and studying has helped with my rehabilitation.

PICTA gave me a lot of personal motivation. No one has to tell me to study… it's something I can do myself, whereas before I didn't have the passion and I got bored, so I looked to drugs. Now I'm able to chase things I'm really interested in – the technology.
This time, James was determined to change his life.
I didn't want to waste my time and sit around doing nothing.
Chris George points out that personal motivation is the key to success for people on the programme.
Almost all of the time the learning is driven by the offender. Most of the courses are computer-led, there's no one there teaching you in the classic sense as our instructors support and guide offenders, in the background.
James added:
I started going through the courses very quickly because I was already familiar with computers. I did a European Computer Driving Licence course and some media courses, and then started doing some courses that teach you how to work with Cisco networking systems, which I enjoyed the most because they are very technical.
And it wasn't just courses that helped James. PICTA, who have 33 projects in prisons around England, have strong links with international technology companies such as Cisco. Their representatives are helping James with his technical CV and are supporting him in his efforts to get future work in the industry. One of the graduates of the PICTA programme now works for Cisco, and Chris George sees this focus on work as essential.
It's widely acknowledged that good employment reduces the chances of someone re-offending. In our case, as an example, some of the inmates may have been illegally making a lot of money from selling drugs. Skilled technical work offers an opportunity to get a well remunerated job. With the qualifications and training we offer, it is possible to get that job.
James has found that working with PICTA has also helped him fight depression.
The programme has actually made me happy. All of a sudden I am doing something I like. Even when I was not in prison it was hard to say I was happy, whereas here I am pursuing something I have always wanted to know about.
With a chance to follow his passion for technology, James is free from drugs and from depression and is now confident of finding a job in the IT industry when he is released.
I've not just got qualifications, I've got experience – hands-on experience.
Published 12 July 2013