Case study
Inmarsat (Nigeria) Satellite connectivity for healthcare
Satellite connectivity for healthcare outcomes in Nigeria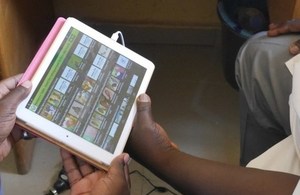 Project Title
Raise the standard of Nigerian healthcare outcomes in areas with poor communications through the application of satellite connectivity
Target Country
Nigeria
Project Lead
Inmarsat
Project consortium
Inmarsat, InStrat, Nuffield Centre for International Health and Development of the University of Leeds
International partners
Federal Ministry of Health, State Health Ministries in Ondo, Kano and the Federal Capital Territory, Private Sector Health Alliance of Nigeria, Galaxy One.
Programme summary
This programme addresses a key development need by extending the reach of basic medical services into remote areas of the country, delivering professional training, data collection and disease monitoring into areas which are inaccessible by conventional methods. This programme seeks to address the last mile challenge, this is the logistical and technical challenge faced by industries like telecommunications with the last portion of the network that physically reaches the service user. The programme will address this challenge using Inmarsat's BGAN technology to host communications which will:
Provide video-based health worker training
Improve health systems management and governance using an information system application
Improve disease surveillance capabilities.
The programme will operate at 84 sites in Kano and Ondo states and the Federal Capital Territory (FCT), bringing the national standard of health care to the most remote areas. It will directly improve health provision and creates a model which can be extended into other parts of the country.
It aims to improve health and consequently participation in the economy and education, directly promoting welfare and economic development.
Objectives
The Programme aims and objectives are:
To use satellite connectivity infrastructure to achieve improvements in healthcare, by providing solutions to overcome connectivity challenges to improve health care at the last mile. Specifically addressing Sustainable Development Goal 3, to ensure healthy lives and promote well-being for all ages
To sustainably improve health service delivery and strengthen Nigeria's health systems by empowering health workers and enabling better health service data management and utilisation
To leverage and demonstrate the unique value proposition of satellite communications to catalyse the emergence of a platform that enables innovative health solutions to reach the last mile and achieve scale in Nigeria, creating the foundation for long-term sustainability
Published 26 January 2017