Case study
Indian dance academy invests in the UK
Shiamak Davar International brings Indian dance craze to the UK with UKTI help.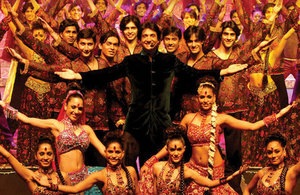 With guidance and practical support from UK Trade and Investment (UKTI), Shiamak Davar International, has set up classes in 5 UK locations and built up a base of over 450 students. As the business grows, 2 more venues are set to follow this year.
In October 2010, Shiamak's team visited the UK to see whether an investment in this market would be worthwhile. UKTI in Mumbai provided background information and guidance about how to set up in the UK. They also put the company in touch with its regional partner, London & Partners, for on-the-ground support with the practicalities of getting around London and investigating its potential.
UKTI put together a list of over 20 UK dance studios, of which the Shiamak team visited 5. They made referrals to several firms of solicitors to help with the legal side of setting up in the UK and other organisations that could offer support.
Shruti Shah, UK Business Manager and Senior Dance Instructor at Shiamak Davar International says
UKTI gave us useful information, including demographics, where we should base ourselves, what dance schools were already around and people who could help us. This support reassured us and gave us the push we needed to launch in and take our plans forward.
Up, running and growing
Today, Shiamak Davar International runs 34 dance classes each week in 5 locations in and around London and 1 in Leicester. Over 450 students have signed up and the business is bringing the company £150,000 a year.
Plans are already underway to set up dance studios in Birmingham and Coventry, as soon as it can be arranged for dance instructors from India to be brought over to the UK. An immigration firm that UKTI referred the company to is currently working to organise the necessary work visas.
Shruti Shah says
Starting out in a new country is daunting and it really helps to know that you are speaking to the right people from the start.

UKTI put us in touch with many people who helped us get up and running and to understand what would be involved. We are certain that without UKTI's guidance, support and introductions things may not have gone so smoothly.
Background
Shiamak Davar, Founder and Artistic Director of The Shiamak Group is a well known Indian celebrity singer and dancer. He is the creative mind behind 3 dance styles:
Shiamak Style Bollywood Jazz, combining Bollywood moves with Jazz techniques
Shiamak Style contemporary, a blend of classic Indian folk moves with ballet
Shabop, inspired by new age hip-hop
These are taught at dance academies across India, Canada, Australia, the United Arab Emirates and since 2011, in the UK.
Fast facts
| | |
| --- | --- |
| Company | Shiamak Davar International |
| Sector | Creative Industries - dance |
| Country of origin | India |
| Investment location | London and Leicester, East Midlands |
| Website | www.shiamak.com |
Published 4 September 2014