Case study
Impression Technologies: firm attracts £6 million for new plant
A business with an innovative way of forming lightweight aluminium structures has built a new plant thanks to a £6 million investment.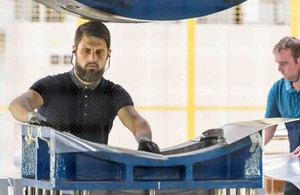 Engineering business Impression Technologies Ltd has built a new production and technology development centre to showcase its lightweight vehicle body technology following a £6 million investment.
The spin-out from Imperial College received £2 million from the Advanced Manufacturing Supply Chain Initiative and another £4 million from venture capital backers.
It also had early support from Innovate UK, the Engineering and Physical Sciences Research Council and other backers in building the world's first production line for hot form quenching (HFQ®) – its patented aluminium forming process.
Pressings are being used in new Aston Martin
HFQ® can form high and ultra-high strength aluminium into complex pressings, offering vehicle manufacturers a cost-effective way to reduce the weight of their vehicles.
HFQ® pressings are already being used in the new Aston Martin DB11, among other premium manufacturers' vehicles. Impression Technologies is using the new production line to demonstrate its technology and license the process to high volume manufacturers worldwide.
Published 25 October 2016