Humaware: novel prognostics can save aircraft maintenance costs
Innovate UK helps SME show how its predictive technology could mean aero-engine components are only replaced when they need to be.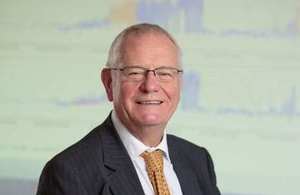 Aero-engine manufacturer Rolls-Royce earns half of its civil aerospace revenue from servicing engines, often on long-term maintenance contracts offering total support.
It means that the manufacturer, not the operator, takes the financial risk on what the maintenance costs are likely to be.
Being able to estimate the remaining useful, or safe, life of a component through innovation in diagnostics and prognostics could bring considerable cost savings to both operators and manufacturers.
Engine health
Innovate UK has helped to fund a two-year collaborative R&D project in this area, 'Assessment of on-wing engine health', led by Rolls-Royce. Humaware, its business partner, was awarded £83,000 towards its costs. It is a five-man company based on the University of Southampton Science Park.
Ken Pipe, Humaware's managing director, explained:
It's all about maximising the value of an asset.

The objective of prognostics technology is to move beyond risk-based, preventative maintenance to condition-based maintenance where you only change a component because it will become unserviceable if you don't.
Stringent safety standards
"Nobody risks an airliner failing," added Ken. "But if you use prognostics, you only maintain when you need to – there is no waste of that resource. In aerospace that's enormous because, apart from the cost of spare parts, there's the cost of grounded aircraft being unavailable."
The challenge has been to prove that the prognostics can satisfy even the most stringent safety standards set by the certification authorities. Ken said:
Humaware's contribution to the project was to develop a proposed certification process for gaining maintenance credits that could be approved by an airworthiness regulator. We could not have afforded to invest at that level or get the support of a large company like Rolls-Royce entirely on our own.

I'm very grateful for the support I've had from Innovate UK. It gets us involved in major R&D programmes where you can do a significant amount of work.
Predictive health monitoring can be applied across a range of industries, not just aerospace but also rail and oil and gas.
Humaware is currently involved in another Innovate UK-funded collaborative R&D project with London Underground.
Published 22 October 2015