Helping SMEs grow with funding and business support
Grant funding for a feasibility study and growth coaching helped Bindatex enter new markets and treble its turnover.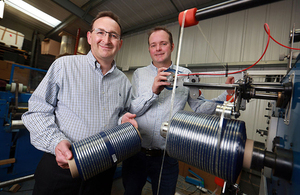 A small Bolton-based company founded in 2004, Bindatex provides high tolerance material cutting services to the composites sector in the UK and Europe.
Its success proves that the right kind of help at the right time can pay big dividends.
Chris Lever founded the company in 2004 to supply pre-cut materials for book binding.
The rise of Kindles and e-books saw him looking for new markets and in 2007 Bindatex began cutting composite and laminate materials for manufacturers - processing them into various sizes and shapes including continuous narrow tapes.
Finding new markets
A few years later he spotted potential opportunities in the aerospace sector but as a 'one-man band' he didn't have the time or capacity to investigate them himself.
He teamed up with Tim Iles of manufacturing advisory service TI Management to apply for a Smart Proof of Market award from Innovate UK.
In 2012 Bindatex was awarded £10,800 towards project costs of £18,000 to research high tolerance composite cutting in aerospace sector. Positive results were virtually immediate, as Chris explains:
The study really raised our profile. We mentioned it to one of our customers at a trade fair. At the time they were putting together a quote for a nuclear fusion project and we worked with them to produce samples.

They got the contract and so did we. It was our first big contract in a totally new area - worth £750,000 over 18 months.
Turnover at Bindatex has jumped from £70,000 in 2012 to a projected £540,000 in 2015. It's taken on 3 employees and is likely to take on more as production ramps up.
The benefits of business coaching
An additional £3,500 funding enabled Bindatex to develop a 3-year growth plan, with Tim's coaching and mentoring help. Chris is convinced of the value of these services:
In a small company you focus on day to day issues. It's important to have someone external to make you think about strategy and prod you if you're going in the wrong direction.

I would have struggled without a growth coach. Tim helped get Bindatex to where it is today by kicking and shoving me into higher value markets.
Tim Iles comments:
Bindatex could be a £1.5 million to £2 million turnover business in the next 3 to 5 years. Transforming Chris from being the person who does everything to being the leader of a team will be a key part of the process.

The strategy and the opportunities are there, but you have to develop capabilities in terms of people as well as technology.
Chris is already thinking about new horizons:
That one small grant enabled us to get into an entirely new sector and grow our business tenfold. The growth coaching made me think more strategically about how I was going to continue moving the business forward.

I now have a clearer picture of where I want the business to go. Innovate UK will be our first port of call when we're looking for advice, support and funding to innovate and grow in the future.
Published 18 December 2014
Last updated 1 December 2015
+ show all updates
Updated information about SME support which is no longer available to new customers.

First published.