Case study
Gordon Murray Design: poised to revolutionise the cars we drive
A design business supported by Innovate UK has developed a lightweight composite structure that is set to change the way vehicles are made.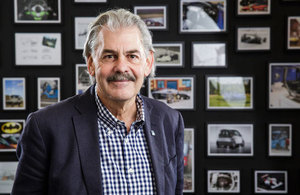 Formula One technology to revolutionise car design
Formula One technology set to revolutionise car design
A business set up by car designer and former Formula One technical director Gordon Murray has developed an affordable version of Formula One design technology that will soon be used in mass production of everyday vehicles.
The patented iStream® technology developed by Gordon Murray Design could significantly cut production costs for manufacturers, lower fuel emissions and offer big improvements in mileage for the driver.
It has allowed Gordon Murray Design to produce a vehicle chassis that requires 80% less investment than a traditional assembly plant, that exceeds Euro NCAP passenger and pedestrian impact regulations, and that delivers a 40% reduction in CO2 emissions over its lifecycle.
Gordon, founder and chief executive of Gordon Murray Design and former technical director of both the Brabham and McLaren Formula One world championship-winning teams, said:
iStream® uses Formula One technology but with use of better cost-effective materials. It reduces the time scale for manufacture of the structural composite components from several hours to 100 seconds.
Lightweight is the holy grail for a car designer. Weight counts against car dynamics in every sense – acceleration, braking, cornering and, with everyday cars, it's fuel consumption and therefore emissions.
The highest priority for everybody in the automotive industry is reducing fuel consumption and emissions. Lightweighting gives you a massive step forward in that area.
What we are doing now will change the lives of millions of people driving normal cars. Their cars will be more efficient, they'll handle better, and they'll be safer.
Business is working with 5 vehicle manufacturers
The business is working on 8 iStream® vehicles with five manufacturers and is very close to signing iStream® licences with some of them. A few other manufacturers have also shown an interest in working with it.
Gordon Murray Design has grown from 8 employees when it was set up in 2008 to 130 today. Once licensing agreements kick in, it expects revenues to increase significantly and for staff numbers to expand dramatially.
Gordon added:
The technology development of iStream® has been extremely well supported by Innovate UK. The first T.27 electric car programme was supported by Innovate UK and helped to launch the business. Since then, we have done a lot of subsequent work with Innovate UK on materials R&D to advance iStream®.
A company such as ours can just about keep the doors open on engineering work but we don't have any R&D money. That's where Innovate UK has been absolutely fantastic for us.
All of these projects are a consortium so we've been working with a major manufacturer, other suppliers and we have found that once people realise this is a government-backed project, it gives us massive credibility.
Published 2 March 2016