Case study
Get Britain Building: Heron's Reach
The Get Britain Building programme is delivering new homes, safeguarding jobs and contributing to economic growth in Heron's Reach.
This case study was withdrawn on
The guidance and supporting documents for the Get Britain Building fund have been archived.
To apply for government supported funding, please visit the Home Building Fund page.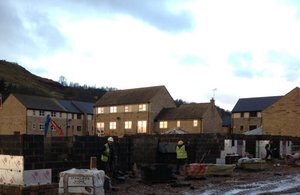 Difficult conditions in the local housing market caused building work at Heron's Reach, a former mill near Saddleworth Oldham, to stall.
To help get work back on site, family-owned developer Wiggett Homes successfully applied for £1.5 million of development finance from the Get Britain Building programme. Work on the 41 homes began in August.
Sites with just 15 homes could apply for the recoverable investment to restart their mothballed sites, and the programme was designed particularly to help small and medium-sized businesses (SMEs) get the necessary finance.
The programme is being managed by the Homes and Communities Agency (HCA) on behalf of the Department for Communities and Local Government. The programme is expecting to provide between 12,000 and 16,000 homes by March 2015.
Wiggett Homes was the first SME in England to exchange contracts and restart work.
Phil Wiggett, a chartered surveyor by profession who set up Wiggett Construction in 1979, said:
"The Heron's Reach development stalled some time ago so we're pleased that the HCA is supporting us to deliver these 41 new homes. Work is underway on the next phase of construction which is a major boost to the economic regeneration of the area and will create new jobs and apprenticeships for local people.
"Trading has been difficult in these recessionary times and private housing for sale is still slow, but there is the odd green shoot and footfall is improving.
"Almost at the peak of the boom the company acquired a site at Knoll Mill, Greenfield, Saddleworth, near Oldham. With the land bought at the height of the market, the slow sales and falling house prices meant building work at the site stalled.
"Now that we have sold the first phase of 16 new homes, and having been successful with Get Britain Building funding, workers are back on site and these new homes will be ready by the end of 2013.
"Wiggetts has been impressed with how the HCA dealt with the Get Britain Building funding. The people we dealt with had an in-depth knowledge of the industry, were very professional and dealt with our application quickly with the result that we are now back on site."
HCA Executive Director for the North West, Deborah McLaughlin added:
"It is great news that work is continuing at this vitally important project, which is delivering much needed high quality new homes and jobs for Oldham.
"It's good to see that the Get Britain Building programme is delivering new homes, safeguarding jobs in our area and contributing to economic growth."
Published 17 December 2012