Case study
Get Britain Building: Bath Riverside
On the banks of the River Avon, the regeneration of Bath Riverside will transform Bath's western river front into a residential quarter.
This case study was withdrawn on
The guidance and supporting documents for the Get Britain Building fund have been archived.
To apply for government supported funding, please visit the Home Building Fund page.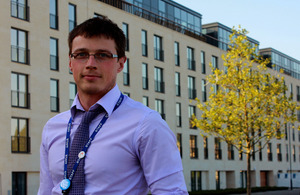 Set on the banks of the River Avon, the regeneration of this site has started to transform Bath's western river front into a modern residential quarter.
Crest Nicholson is creating a vibrant new community of more than 2,000 homes, with some available for private sale, through the FirstBuy equity loan scheme, and for rent.
Getting on the ladder
The FirstBuy initiative helps first time buyers get a foot on the property ladder.
FirstBuy is jointly funded by developers and the government, and works by enabling buyers to own their own home by only paying 80% of the purchase price. At Bath Riverside a 20% top up loan is offered by Crest Nicholson and the government, and buyers need a deposit of just 5% of the purchase price.
Ben Cocks, 25, had nearly given up hope of buying his own home until he became aware of FirstBuy on the properties already completed at Crest Nicholson's Bath Riverside development. He has now moved in to his 1-bedroom apartment at the scheme and is relishing his new-found independence and the security of home ownership in Bath's newest community.
"I was living with my parents in Bradford-on-Avon but I have a 4 year old son who stays with me every other weekend, so that wasn't an ideal situation", explains Ben, who works in higher education.
"I had been renting previously, but it was impossible to save for a deposit while paying rent. I heard about the FirstBuy scheme after reading about it in the local press late last year, and noticed that it was available at Bath Riverside.
"Without the FirstBuy scheme I would have found it pretty much impossible to get on the housing ladder," said Ben.
Unlocking development
The government is also supporting developers with access to much needed finance through the Get Britain Building programme. Up to 16,000 homes on stalled sites across England will be built by March 2015 thanks to this programme.
The second construction phase of 240 homes is currently underway, which has been supported by £2.8 million of investment from the Get Britain Building programme. A recoverable investment, the programme helps developers access finance, and to help bring forward marginal sites by sharing risk.
The programme is run by the Homes and Communities Agency (HCA). Executive director Colin Molton said:
"Bath Riverside is one of the most important developments in the South West, and I am pleased that we've been able to help keep Bath building and create quality new homes and safeguard jobs in the area."
A biomass central energy system, 2 new public parks, bike storage and easy access to the city centre along the towpaths, and brown and green roofs demonstrate the developer's commitment to sustainability.
In addition to the support provided through Get Britain Building, the HCA also invested around £2 million in vital infrastructure work which unlocked the first phase of development.
Published 17 December 2012