Case study
Gaist: firm quadruples staff thanks to roads management system
Consultancy business grows rapidly after developing a way of helping local authorities to more cost effectively manage their highways.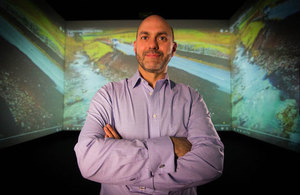 Data specialist Gaist Solutions is helping local authorities to manage their roads more cost-effectively through innovative use of data.
Gaist formed a Knowledge Transfer Partnership (KTP) with the University of York in 2012. The system the partners developed can simulate long-term effects of different investment strategies on roads, street furniture and other infrastructure.
Gaist added 15 more highway authorities to its list of clients following the KTP, and has interest from others. Its turnover tripled in a year and is predicted to double again in 2016-17. Its staff numbers have gone up 400% since 2012.
Gaist won thanks of PM for helping with floods
One Gaist client estimates savings of more than £100 million through improved highways asset management. Transport opinion polls rank it top in the UK.
The growing SME is now working with the UK government on national resilience. Then Prime Minister, David Cameron, personally thanked Gaist for helping Cumbria recover from Storm Desmond.
Published 25 October 2016