Case study
First past the post: Rugby First show how joint working protects communities
In Rugby, organisations have worked together to provide a collaborative approach to CCTV that protects the community whilst maintaining their right to privacy.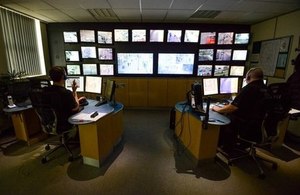 In 2005 Rugby First was created. Their control room in Rugby, which is funded by local business, the local authority and police, combines CCTV with a variety of other services such as street rangers, town centre safety and other security initiatives.
In 2005 the CCTV system run by the Local Authority, who are one of our major partners, was ageing and the control room was small. As part of the government initiative – Business Improvement Districts (BID) – Rugby First took over the running of a jointly funded and updated control room to be run and administered by Rugby First staff. The financial agreement with the Local Authority was to ring-fence the budget provided for CCTV which still continues.
Said Patrick Weir, Rugby First Operations Manager
First class benefits
This kind of partnership working has turned out to be very beneficial and lead to information sharing across traditional organisational boundaries. It's made it much easier to share information, intelligence and feedback between the police, local authorities and commercial businesses as well as other organisations.
Weir added:
The main aspect of the Rugby first operation is the partnership working and the benefits of this due to information sharing protocols that have been in place for 10 years. Our CCTV staff have enhanced vetting by Warwickshire Police which means they can attend daily police briefings including the inspector's morning brief, use police airwave radio and ANPR cameras. This provides real practical benefits when there are a number of diverse organisations with differing priorities.
First rate system
The partnership working of Rugby First has meant that the town is a safe place to visit and the CCTV system is used in line with the Surveillance Camera Code of Practice – to protect people rather than spy on them.
Businesses benefit from a 24/7 service and a retail radio link with over 200 users provided free of charge covering day and night time economy. Visitors and shoppers are reassured that the town is a pleasant and safe environment to work and visit. We also run the system so it follows the 12 guiding principles in the code of practice and have information available on our website about how we do this.
Said Weir
Initiatives such as Rugby First demonstrate how organisations can work together to provide a framework for CCTV that protects the community whilst maintaining their right to privacy.
Published 16 October 2015