Case study
Fast Forward Competition 2014: Smart IP Scheme
The University of Oxford were awarded £77,000 in the 2014 Fast Forward Competition to fund their 'Encouraging IP uptake for SMEs through the Oxford Smart IP Scheme' project.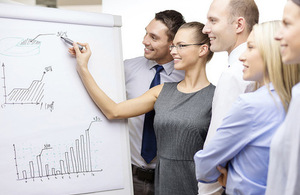 Reducing the risk of innovation
Isis Innovation at the University of Oxford have a commitment to increase SME involvement in innovation. The SME Smart IP Scheme (SSIPS) came out of this commitment. It offers SMEs greater flexibility and improved risk management when accessing IP originating from the university.
The SSIPS project offers a two-stage licence which recognises separate development and exploitation activities. In the first stage, SMEs can enter into a development licence. At this stage Isis apply their R&D resources and expertise to turn technology into a new product design.
Once the new product specification exists, the second stage gives the SME three options :
Make and market the product themselves.
Out-license the designs and IP to a suitable manufacturing and marketing company.
Pass the designs to Isis for them to identify and engage a marketing organisation.
Key to the success of SSIPS has been the support offered to SMEs. As well as up-front IP development, those that invest in the product earn a share of future revenues. Isis also works with the SMEs to encourage access to the many support initiatives available to them.
Early success
Dr Jon Carr, Senior Technology Transfer Manager at Isis Innovations has seen real progress since the project began last year :
The Isis Smart IP Scheme has been a success. Twenty-five Isis projects joined the scheme and two development IP licence agreements have already been completed.
The leading edge nature of the IP in Isis' technology is clear in the completed IP licences. One is for a magnetic instrument and the other a neutron detector. Jon confirms that they've also completed an option agreement and a further seven IP licences are currently under negotiation. Next steps for the team include increasing the number of Isis projects and completing the development licences currently under negotiation.
Encouraged by the success of the project they've committed to keeping the scheme running. Jon and his team are currently investigating additional sources of funding. They're also looking at how they can raise the scheme's profile, as speaking opportunities have already proved useful. With that in mind they're making use of sessions at specialist university-industry events. They're also presenting at the PraxisUnico 2015 annual conference in June where they'll highlight success stories and lessons learnt.
Published 9 July 2015