Case study
Fast Forward Competition 2014: Health Technology Challenge Wales
Cardiff University were awarded £65,000 in the 2014 Fast Forward Competition to fund their 'Health Technology Challenge Wales' project.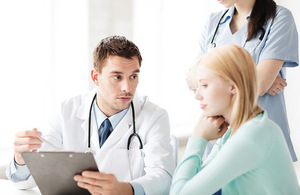 Innovative solutions to clinical problems
The success of Cardiff University's 2013 Fast Forward Competition project encouraged them to apply for follow-on funding. They won that funding and soon after launched 'Health Technology Challenge Wales'.
Health Technology Challenge Wales is an open innovation platform. It enables healthcare practitioners and technology providers to work together to find innovative solutions to clinical problems. Underpinning the platform is an interactive website. The website allows users to post problems (challenges) where technological solutions are sought. Users can be from healthcare, as well as members of the public, patients and carers. The best challenges are then entered into a funding competition where interdisciplinary teams are invited to find solutions.
Unlike the pilot scheme which covered South East Wales, the 2014 competition became an 'all Wales' competition. The team recognised that the public sector and third sector institutions play an important role in healthcare. To capitalise on this they encouraged their involvement in the scheme, as well the wider healthcare community in Wales.
A community of problem solvers
Most funding schemes require projects to be meticulously planned beforehand. Health Technology Challenge Wales is different. It encourages an open approach where alternative solutions can be considered. This open approach allows for a problem to be posted by someone with no idea of how to solve it. The community are then free to respond with their own ideas. An interactive website where users can comment and vote on the ideas posted means that innovation is never far away. The result is that healthcare professionals, technology developers, and end users are able to work together easily and collaborate to find solutions.
The overall aim of the project was to have an innovation process based on clinical pull. The team wanted greater alignment between the NHS and academia, they also wanted an open innovation system. This system allows for the sharing of ideas between colleagues with different expertise across different institutions. The project team believe that the success of the Health Technology Challenge model is proof that it's a viable platform for driving innovation in healthcare.
Award winning
Projects funded under the scheme so far have been diverse. From an app to improve patient monitoring in Prostate Cancer to a novel antiseptic wound dressing. Each one has seen success and received praise from the healthcare community.
Two projects are particularly noteworthy for their innovative use of technology. The "About Me" autism app is a finalist in the NHS Wales Awards 2015. It offers an interactive online document to support children with autism and their families. The "Think About Me" project offers a 'TripAdvisor' style feedback website for care homes. It won the 'Enhancing the Experience of Care Award at the Nursing Standard Nurse Awards 2015.
Enhancing the scope and visibility of the competition is vital for its future. They've already secured more funding from Tenovus and are in discussions with other charities. The team see this support and the success of the projects as proof of its potential. Keen to capitalise on this they've committed to running the scheme on an annual basis.
Published 9 July 2015