Case study
Fast Forward Competition 2014: App Challenge Model
Plymouth University were awarded nearly £75,650 in the 2014 Fast Forward Competition to fund their 'App Challenge Model' project.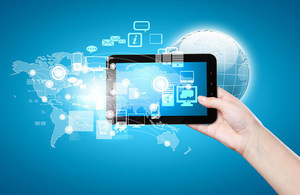 Harnessing patients to develop healthcare apps
Healthcare innovations can sometimes come from patients finding solutions to their own healthcare problems. The benefit of involving patients in the development of healthcare solutions is widely acknowledged. The challenge with this approach is knowing how to bring patients and developers together. Another challenge is knowing how to manage the IP they create.
The project team at Plymouth University believed that software competitions could address those challenges. Software competitions would bring medical charities, patients, and developers together to design healthcare apps. Involving such a broad range of stakeholders would give the team a wealth of information to develop a best practice model. To stimulate further innovation, this best practice model would be shared among the community.
Health app challenges
The team ran two Health App challenges - the Bariatric App Challenge and the Diabetes App Challenge. Participants included Plymouth University, charities, software developers, and the NHS. Take-up for both challenges was good with more than 100 patients involved in the process.
Teams of patients and developers worked together to review existing apps and to develop new ones. Key to the success of this project was the creation of an online community area using Code4Health. Patients and developers used this area to identify gaps in the health app market and to share ideas for new innovations. The team are keen for the innovation to continue so have ensured that the community area will stay active. As well as sharing experiences of the challenges, discussions will also focus on collaboration and IP.
Promoting best practice
Using the lessons learnt from the challenges, the team have produced detailed guidance. It shows how a charity can take part in, run, and support future Health App Challenges. IP features in the guidance, with a dedicated IP section for both patients and developers.
Professor Ray Jones, Professor of Health Informatics at Plymouth University said:
IPO funding has allowed us to explore how to improve the development of apps. We've looked at the good ideas that patients have and how IP is best managed. The result is a model for running Health App Challenges that we've made available to all.
The team are continuing to refine the challenge model. They're examining how they can promote the guidance and secure participation in future challenges. They're also preparing to submit journal papers, having already shared the guidance online.
Published 9 July 2015