Environment Systems (South America) Agricultural Satellite Data
Delivering analysis-ready and value-added data to the South American agricultural supply chain and farmer advisory services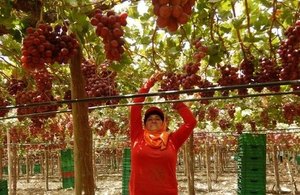 Project title
EO4cultivar
Lead supplier
Environment Systems Ltd
Project Consortium
EO4cultivar is an international collaboration with project partners in the UK, Peru and Colombia led by Environment Systems Ltd. Other UK consortium members are: Barfoots, Geoseren, JNCC, EDINA, The Open University and Aberystwyth University. Wavehill is engaged as a subcontractor.
International partners
(Peru): ITP CITE Agroindustrial Ica, ITP CITE Agroindustrial Chavimochic, Danper and DM Agrícola. (Colombia): Geits, ASBAMA and Campo Vivo.
Project summary
By developing the ability to easily disseminate and incorporate Earth Observation (EO) data into local and national management practices, EO4cultivar will have real impacts on improving agricultural production and food security in Peru and Colombia. EO can provide timely field scale crop observations at regional and national scales into the high value South American agricultural market.
There are sources of free and commercial satellite imagery, but there isn't the capability to process the data necessary to deliver national agricultural data services in South America. EO4cultivar will work with commercial and government stakeholders in Peru and Colombia to deliver information frequently and rapidly within the growing season via trusted channels. Cloud-based processing and storage infrastructure will be developed to deliver data services, such as field-level time series of imagery to monitor performance and target management, as well as crop identification to support biosecurity, resource planning and market intelligence needs.
Expected impacts and benefits of the project include:
Improving competitiveness and strengthening the commercial supply chain for export crops.
Making a positive contribution towards sustainable food production systems and resilient farming practices as well as strengthening capacity for adaptation to climate change.
Objectives
Help key growers in Peru and Colombia to improve yield.
Provision of crop information services to make the supply chain more resilient.
Improve the way Peru and Colombia undertake sustainable farming practices.
Capacity building and continued innovation from EO by supporting 3 PhDs.
Published 26 January 2017