Case study
Enabling Kazakhstan's Earth Observation Capability
Collaborative and Autonomous Mission Operations System for KazSTSAT.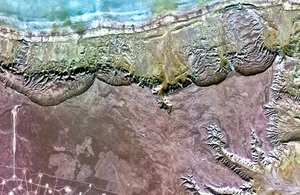 UK Lead Supplier
Surrey Satellite Technology Ltd (SSTL)
International Partner
Ghalam LLP
SSTL and Ghalam LLP in Kazakhstan are jointly developing the KazSTSAT small satellite mission. The IPSP grant will aid in the development of an autonomous and collaborative Mission Operations system in partnership with Ghalam LLP to handle the high volume of Earth observation data that will be downloaded from the spacecraft's SSTL SLIM6 Imager, enabling the full research and commercial data provision of the mission to be realised.
In addition, the project will also provide the Kazakh engineers from Ghalam LLP with real data from another of SSTL's satellites, UK-DMC2, so that they can gain experience of working with the earth observation data via a virtual ground station ahead of the launch of KazSTSAT.
The KazSTSAT mission is a collaboration between Ghalam LLP of Kazakhstan, SSTL, and UK based DMCii, an image processing company. The spacecraft, due for launch in 2016, will demonstrate a number of new technologies, and will also fly a standard SSTL SLIM6 imaging camera, capable of providing an image data throughput in excess of 70Gb per day.
Published 17 September 2015