Case study
EM&I develops partnership with Odebrecht Oil and Gas in Brazil
UK government helps asset integrity management group EM&I win £6.6 million in contracts with major oil and gas companies in Brazil.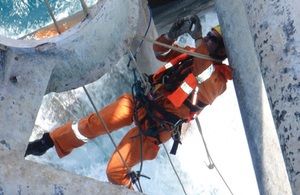 This company was assisted by UK Trade & Investment (UKTI), which has since moved to the Department for International Trade (DIT).
Joining a trade mission to Brazil and introductions by UK Trade and Investment (UKTI) helped oil and gas asset integrity management group EM&I develop a partnership with Odebrecht Oil and Gas.
As a result, it has won contracts with major international oil and gas companies in Brazil worth over £6.6 million. It is now targeting business with a potential market value of over £46 million in the next 5 years.
Danny Constantinis, founder and Chief Executive Officer (CEO) of EM&I said,
UKTI's advice and unparalleled network of contacts has accelerated our expansion in Brazil.

UKTI first helped us plan our approach to potential clients and then put us in a position to meet senior people in the industry and government regulators.

On our own that would not have been possible. We are now seeing the fruits of their efforts - valuable new business for our company.
New opportunities
EM&I identified Brazil as a target market in 2011 due to its rapidly expanding offshore oil and gas sector.
Many of its clients already had ongoing operations there. EM&I made an exploratory visit to better understand the market and what opportunities were available. Soon after the visit, it signed contracts to service its clients' Brazil-based floating production assets.
Partnering with Odebrecht
After seeing this expansion UKTI asked EM&I to join a trade mission with Prime Minister David Cameron in September 2012.
During the mission UKTI arranged a meeting with the Brazilian management team of oil and gas firm Odebrecht, one of the largest companies in Brazil.
The discussion resulted in the companies creating a partnership to jointly develop the market and target contracts worth over £6.6 million. Potential for further business worth over £46 million was also identified. This led to EM&I opening its Brazil headquarters at Odebrecht's base in Macaé in 2014.
During the trade mission, EM&I also joined the Prime Minister on a visit to the Petrobras headquarters where he promoted British expertise in the oil and gas sector to senior management.
Future growth
Over the next 2 years, EM&I anticipates signing contracts with 2 more fleet-wide floating production and drilling companies, bringing the total number of assets it services to around 50 by 2017.
Danny Constantinis says,
We are very pleased with how UKTI has helped us penetrate the Brazilian market.

The best advice I could give to any company considering expanding into Brazil is to find a strong local partner as well as experienced legal, tax and accounting professional services providers.

Thanks to UKTI, we see a bright future in Brazil and many other territories for our company.
Danny Constantinis visits Brazil at least 3 times a year to keep in touch with clients and other contacts.
Brazil – a high growth market
UKTI has designated Brazil a High Value Opportunity (HVO) market for oil and gas.
About EM&I Group
EM&I Group was founded more than 35 years ago and now has 170 employees worldwide.
EM&I's ODIN™ diverless Underwater Inspection In Lieu of Drydocking (UWILD) method is an example of their continuing innovation. UWILD enables the underwater inspection of floating production installations and drilling assets without using divers or remote operated vehicles.
EM&I has won numerous international industry awards for innovation and improving safety. It's Research and Development (R&D) centre is based in Cumbria.
Fast facts
Company: EM&I Group
Sector: Oil and gas
Target market: Brazil
DIT services: Guidance, introductions
Website: www.emialliance.com
Published 18 March 2015