Eliminating elephantiasis in Africa
How UK aid is helping to ensure the next generation is free of disease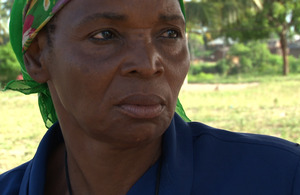 Life hasn't been easy for 50 year old Mahija Ali in Tanzania. She's lived with elephantiasis for a number of years, a condition that results in severe swelling of the lower half of the body. Since then she's has had to give up her shop, find the money for treatment and deal with constant pain in her legs.
Lymphatic filariasis (elephantiasis) is just one of a number of neglected tropical diseases (NTDs) that collectively affect over a billion people worldwide. UK aid is at the forefront of ensuring the diseases are neglected no longer, and is preventing millions of people becoming infected through supporting research into new drugs and mass distribution of current drugs. "It's really good that my children will be saved from getting the same condition. All my children get the drugs and I make sure they take them", says Mahija.
The disease is transmitted by parasites carried by mosquitoes, and damages the lymphatic system and kidneys. Over 120 million people are currently infected by elephantiasis, which affects the poorest people across many of the world's tropical regions. The disease prevents people from living normal lives; children who are affected cannot go to school, people affected often have to stop working and it is estimated the disease costs Africa £1.3 billion a year in lost productivity.
Prevention is key, with drugs given to the entire population at risk of getting the disease one of the best ways of fighting the disease. Mass drug administration (MDA) helped over 500 million people like Mahija's children to be treated in 2008 alone.
Research into the prevention of infection is also important, helping determine links with other tropical diseases, finding innovative ways to develop new drugs and looking for better ways of distributing the drugs to best reach the people that need them the most.
UK aid has long supported the Liverpool  School of  and Tropical Medicine (LSTM) to carry out research on neglected tropical diseases in Africa. Three  years on since LSTM students Simon Jackson and James Pritchard arrived in Sierra Leone armed with their microscopes and notebooks, research into the control of these diseases have been ongoing. The team, in partnership with other organisations, have also been hard at work building the capacity of the local researchers, equipping the local NTD laboratory in Sierra Leone and doing the groundwork for future research. LSTM's research has also focussed specifically on the distribution of preventative drugs for Elephantiasias, and how to influence policy on mass drug administration.
In partnership with LTSM, UK aid support to the Global Alliance to Eliminate Lymphatic Filariasis has also helped establish a PhD programme for health professionals working in countries affected by these diseases. Researchers in Sierra Leone, Liberia, Bangladesh, Papua New Guinea, Mali, Malawi and Zambia are enrolled onto the course, and work both in-country collecting field data, and in Liverpool, gaining expertise from the University's academics.
The World Health Assembly has called for the elimination of the disease as a public health problem by 2020. UK aid support will help reach this target.
As Mohammed Laina, a 46 year old Tanzanian fisherman treated successfully for elephantiasis says, "My life right now is very good. I'm healthy, happy and able to take care of my children. I have hope for the future".
Published 27 January 2012