Dojima opens first sake brewery in the UK
Support from UK government in the UK and Japan has helped Dojima set up a branch office in London and develop a strategy for a new brewery.
This case study was withdrawn on
This page has been withdrawn because it is out of date. For information on exporting visit great.gov.uk.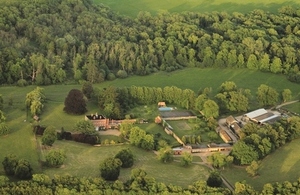 This company was assisted by UK Trade & Investment (UKTI), which has since moved to the Department for International Trade (DIT).
Dojima has established a company in the UK with help from UK Trade and Investment (UKTI). It's now in the first step of a process of investing £8.9 million to develop the UK's first sake brewery and visitor centre.
It began to consider setting up a brewery in the UK in 2014. Dojima has a variety of business interests and its knowhow has supported the launch of more than 30 breweries.
Kiyomi Hashimoto, Managing Director, Dojima Sake Brewery UK and Co. says,
UKTI has been crucial to us. They gave us step-by-step support including setting up meetings with an expert, without which our project couldn't even have begun.
Setting up a company in the UK
Following an introduction made by Japan External Trade Organization (JETRO) Osaka, the company turned to UKTI based at the British Consulate-General in Osaka for information and support.
Fumie Yamamura, Inward Investment Advisor, and her fellow UKTI specialists helped to develop an investment plan and secure appropriate visas for staff.
In the UK, UKTI introduced Dojima to accountants, lawyers and its regional partner, London and Partners, for specific expertise about setting up a company and finding premises in London.
Dojima Sake Brewery UK and Co. was set up in November 2014, staffed by 2 employees who were transferred from Japan.
Kiyomi Hashimoto says,
London is ……an ideal location from which to expand our business throughout the UK, into Europe and beyond.

They [UKTI] connected us with Japanese organisations, such as Cool Japan Fund, a public-private fund supporting the development of Japanese companies overseas.

This and other introductions that UKTI facilitated for us were very useful, saving us time and making sure we spoke to the right people.
Finding a brewery site
UKTI in the UK also helped Dojima with its plans to set up a sake brewery. Potential sites were identified and researched. Throughout the search for suitable premises, UKTI advised on how to obtain planning and licencing approval.
Kumiko Hashimoto, Marketing Executive at Dojima, says,
We would recommend other businesses that want to set up in the UK to contact UKTI in the early stages of planning.

They can propose the best solutions to problems and questions you may have, and provide the support you need.
Dojima became interested in the Fordham Abbey Estate in Cambridgeshire, a Grade II listed country house set in over 200 acres of parkland.
UKTI connected the company with East Cambridgeshire District Council who arranged a pre-application meeting with the Council's Economic Development and Planning officers to discuss the site.
The meeting helped the company to understand the planning considerations at Fordham Abbey and therefore take a clearer view on whether to go ahead with a full planning application.
Dojima is currently in the process of acquiring the Fordham Abbey Estate for £3.5 million. Development plans will involve an investment of around £9 million and a staff of over 100 in the next 5 years.
Sake production
UKTI put Dojima in touch with food and drinks specialists Campden BRI whose water mineralisation expertise will ensure that the hard water found in the UK is suitable for making sake.
Production of sake is due to begin in 2015. Dojima has ambitious plans to:
sell 10,000 bottles in the first year
achieve a turnover of £1 million
begin exporting sake into Europe in the next 2 to 5 years
Kumiko Hashimoto says,
We probably wouldn't be where we are today if it was not for UKTI. Throughout the process, their specialists both in Japan, at the British Embassy in Tokyo and the Consulate- General in Osaka, and in the UK have given us a great sense of comfort and trust. Their encouragement pushed us to progress our plans and make them a reality.
About Dojima
The original Dojima Brewery Co., Ltd. was started in 1996 in Osaka, Japan. The company's founder, Yoshihide Hashimoto, has a family tradition of brewing sake, an alcoholic drink made from water and fermented rice, that goes back over 200 years.
Fast facts
| | |
| --- | --- |
| Company | Dojima Sake Brewery UK and Co. |
| Sector | Food and drink |
| Country of origin | Japan |
| Investment location | London, Cambridgeshire |
| Website | www.dojimabrewery.com |
Published 3 February 2015