Case study
Divers take the plunge in spent fuel pond
A trial has demonstrated the specialist divers can successfully retrieve the contents of spent nuclear fuel ponds.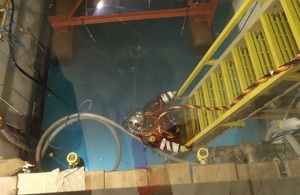 Challenge
Retrieve pond contents effectively while minimising potential worker dose
Solution
Test process established in the US, using underwater divers with view to full deployment
Technology
Divers working in fuel storage ponds.
Benefits
Fully protected divers can work under water to retrieve and cut up items, minimising worker dose while speeding up decommissioning and reducing costs.
Details
In a trial at Dungeness A spent fuel pond, divers have been cutting up items before retrieving the contents from deep below the water's surface.
The radiation shielding provided by water enables divers to work near empty fuel storage skips, sludge and equipment, gaining access to awkward areas. Fuel skips are now being cut up under water and sludge cleaned up.
The conventional approach would be to deploy remotely operated equipment to retrieve the intact skips from the ponds and subsequently cut them up in air. However, this is a slow process that can expose workers to potentially higher doses.
A range of measures were needed to prepare for the dives, including the installation of a platform with ladders, electrical arrangements, cranes to receive and move retrieved packages, rigorous dose monitoring equipment, as well as agreement from the Office for Nuclear Regulation (ONR).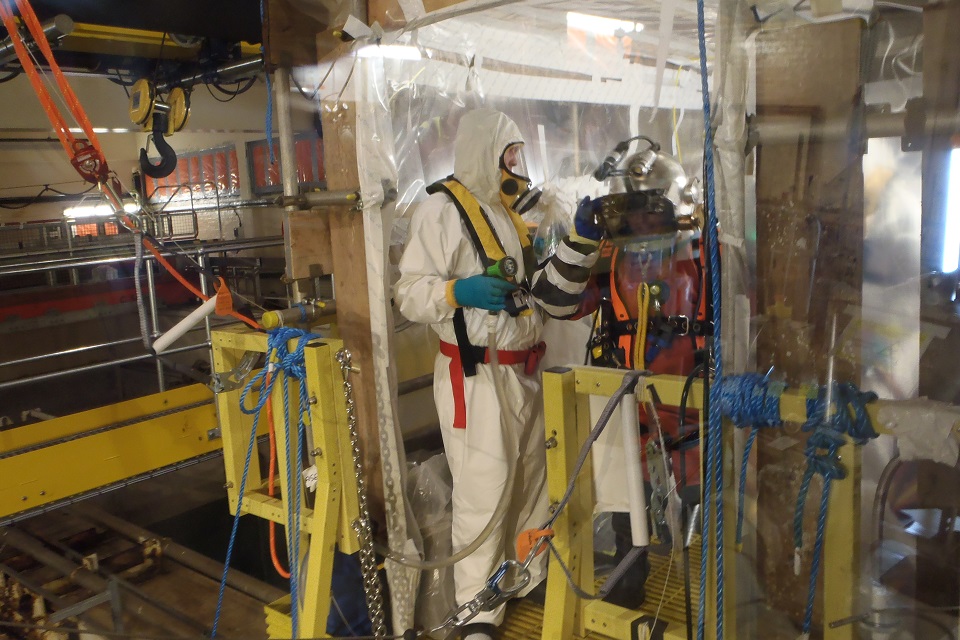 The specialist divers wear full protective gear with breathing apparatus and are carefully guided while under water. Even with the water shielding, high-dose items must still be dealt with from a distance.
The trial has demonstrated that the new approach reduces dosage to workers, while enabling faster, more productive removal of the pond's contents.
Diving is used more widely in the US nuclear industry, but the Dungeness project is one of the UK's first extensive deployments in a spent fuel pond. After the success of the trial, and subject to agreement from regulators, it is planned to use divers at Sizewell A and Oldbury, where the learning from Dungeness can benefit their pond decommissioning.
Status
Successful demonstration of process, to be extended to other Magnox ponds.
Research organisations
Innovation route
New approach brought in by US specialist Fluor, one of the parent body organisation partners for Magnox Ltd.
Published 4 November 2016