Case study
Diabetes management transformed with AI-powered app
Industrial Strategy Challenge Fund will help individuals with diabetes make better-informed decisions through an AI-powered management app.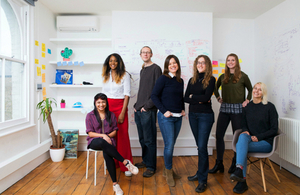 There are 100 million people in the world living with insulin-dependent diabetes. They have to make hundreds of critical decisions every day to maintain blood glucose levels.
Each person with diabetes is different and currently there is no effective way for doctors to advise on how much insulin to take, and when to take it.
Quin, a digital health company based in London, has produced an app that uses machine learning to collate, analyse and correlate user decisions to provide better advice on diabetes management.
Quin - better diabetes management
Quin's co-founder Isabella Degen said:
People with diabetes have to make many decisions every day, about how much insulin to take, when to take it, and how to adjust it based on what they want to eat.
Being active, and the stress they may be facing at work, also impacts those decisions.
Quin will use an Industrial Strategy Challenge Fund grant to develop an AI-powered algorithm which will eventually remove the need for many of these decisions.
The funding is part of the leading-edge healthcare challenge, which will invest up to £181 million in industry and research to create new products and services for improved medical treatment in the UK.
Changing the way people think about diabetes
The project is based around Quin's wider research programme into diabetes management which also aims to cluster individuals according to their decisions and outcomes.
Those with type 1 diabetes need to make many decisions about the timing and dosage of taking insulin. By using the data from the individual's historic decisions, the system advises on the best action. It also helps researchers and healthcare providers to develop more personalised treatment.
Cyndi Williams, co-founder at Quin, said:
Quin currently observes and learns an individual's best past decision. So, we say over to you – you make the decision.
However, with this comes challenges and Cyndi notes that users want more than just guidance from the app, which is why Quin is developing its AI to provide more personalised information.
She continues:
What our customers really want is an app that actually just says, hey, take a unit of insulin now, or go for a walk now, or eat an apple now.
From a regulatory perspective there's no way to actually build an app like that unless we've actually built out the machine learning algorithms and proven the efficacy and the safety of those algorithms.
The Industrial Strategy Challenge funding will allow Quin to expand the app's capabilities and address regulatory needs. As a result, the app could significantly reduce the cognitive and psychological load of the user by taking on more of the decisions they have to make.
A partnership
The company is just 4 years old and began when both Cyndi and Isabella were working at the same company.
Cyndi explained:
Isabella was going to leave and set up a business to start focusing on really making a difference in the lives of people who are taking insulin, and asked me: "did I know anyone who could help her?

I said, "well, I think I do!" We then joined up together and started the company.
Isabella concluded:
What we are doing is something that hasn't been done before. Funds like this help us to essentially start that venture and give us the credibility to say it's worth investing into an area like ours.
Published 25 February 2019