DFID Research: Tuberculosis patients benefit from new treatment strategy in Tanzania
A new TB-treatment delivery strategy has been implemented by the National TB and Leprosy programme of Tanzania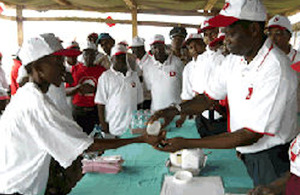 Operational research conducted by members of the TARGETS RPC demonstrated that daily observation of treatment (DOT) can be transferred from health-care workers to a supporter of choice at the home of the patient.
This new patient-observer centred treatment delivery strategy gives patients a choice of where they receive care and by whom, and was found to increase drug treatment adherence and help prevent disease resistance. This could benefit new TB patients by reducing the chance of resistant TB strain infections. The evidence gained from the study could be useful for other TB programmes and also influence treatment delivery strategies in other fields such as HIV/AIDS.
Home-based TB treatment is welcomed by patients and health staff, has no detrimental effects on TB treatment outcomes, fits easily into current programmatic activities and will contribute to patient empowerment. The benefit for health facilities lies in a reduction of TB patients having to receive daily treatment observation from trained health workers, allowing medical staff to spend more time on other health care activities.
Previous studies have involved additional interventions, leading to potential overestimates of the positive effects of this kind of approach. In this study, the patients were given a choice of treatment location and observer with no additional measures to improve outcomes. Since there were no restrictions on who provided the observational intervention, it was also possible to assess the role of close family as a potential treatment supporter. It is often assumed that close family are inappropriate because of issues around dependency and emotional attachments. However, the study did not find these issues to be problematic.
All new TB patients nationwide are now offered the choice of treatment observation in a medical institution or at home through an observer of their choice.
Community based treatment delivery is not new. Its efficacy has been assessed in several well controlled studies. This research is novel because it shows the effectiveness of such an intervention when implemented in the routine programmatic context. This evidence is much needed to inform policy makers and programme managers who are responsible for implementing this kind of service.
It is of great importance that this kind of new delivery strategy does not lead to uncontrolled drug taking with a rapid increase of drug resistance as a result. As such, a range of follow-on studies are planned to provide additional evidence on the obstacles encountered and long term effects of the strategy as it is implemented at scale.
Published 19 October 2010