DFID Research: The Politics of Poverty
A new report shows how DFID-funded research is changing academic and policy thinking on governance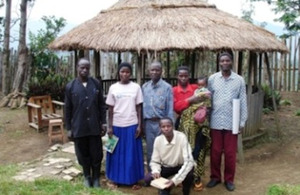 A new DFID synthesis report, The Politics of Poverty: Elites, Citizens and States, shows how research from 4 major DFID-funded research programmes that are closing this year is changing academic and policy thinking on governance.
Read the full report on the DFID website.
DFID met with a range of international researchers, policymakers and practitioners about the report findings. Watch this video to find out more about the research and hear feedback from those who will be using it.
See also the special conference newsletters, number 1 and number 2 and the conference report.
What difference does Governance make?
Governance is sometimes seen as an intangible concept. But at root it is a simple one. Governance describes the way countries and societies manage their affairs politically and the way power and authority are exercised. This makes a big difference to all our lives: it determines the security of our families from conflict, disease and destitution; our freedom to actively participate in our societies and to have a say in the way we are governed; and our opportunities to educate ourselves and to be economically productive, securing a better future for ourselves and our communities. Governance determines whether our states can collect taxes and use them responsibly to deliver public services. For the poorest and most vulnerable, the difference that good, or particularly bad, governance, makes to their lives is profound: the inability of government institutions to prevent conflict, provide basic security, or basic services can have life-or-death consequences; lack of opportunity can prevent generations of poor families from lifting themselves out of poverty; and the inability to grow economically and collect taxes can keep countries trapped in a cycle of aid-dependency.
Governance is also vital for effective aid, which often depends on whether and how governments, leaders, and citizens work together in developing countries to fight poverty and promote growth, peace and security. Understanding the political and economic actors and institutions that promote or oppose change has often made the difference between success and failure of development interventions.
DFID has invested in governance research so that we can understand how to promote policy reform that works in developing countries, and especially fragile states, and how programmes can have maximum impact in the political contexts in which they take place. But these findings are not the views of DFID - they are contributions to a debate and to the wider evidence.
The following programmes have been funded by DFID over the last 10 years:
Citizenship, Accountability and Participation Programme
Centre for the Future State
Crisis States Research Centre
Centre for Research on Inequality, Human Security and Ethnicity
These have made some major findings about governance, including:
security is a precondition for development and must be prioritised after conflict, but achieving this can sometimes be at the cost of accelerated development
conflict is three times more likely in countries where there are high levels of inequality between different ethnic and religious groups
citizen engagement in development is very important, delivering better service delivery and in building effective, accountable states
effective taxation policies are crucial to building effective and responsive states and provide a critical path out of aid dependence.
The way economic growth really happens in developing countries may not fit the current blueprints recommended by donors.
More details on each of the major policy areas of Conflict, Citizens, States, Tax and Growth, are provided in subsequent sections of the full feature article.
Published 30 June 2010