DFID Research: taking on "the pests of the 20th century"
New research is helping to combat whiteflies and the viruses they carry which can devastate crops.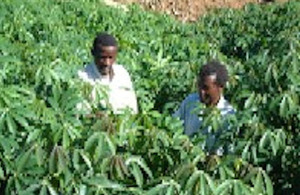 More than 2 million hectares of common beans in Latin America can be saved from whitefly transmitted viruses, thanks to collaborative research conducted by DFID and other donor partners over 7 years. The Tropical Whitefly IPM Project has also helped to prevent a highly virulent strain of African cassava mosaic virus in the central Lakes Region of East Africa.
Whiteflies, and whitefly-borne viruses together ravage more than 20 million hectares of basic food crops in some of the world's poorest countries, threatening the livelihoods of an estimated 15 million resource-poor farmers. Called 'The Pests of the 20th Century' they attack staple crops such as common bean, cassava, squash, tomato, peppers and sweet potatoes.
The project has forged collaboration between more than 100 National Agricultural Research Institutes, Universities, Non-Government Organisations, and International Agricultural Research Centres in more than 50 developing countries. Together, they have identified the extent and nature of the threat, explored the kinds of ecosystems and managed environments in which the pest thrives, and developed a common method for their research which enables global exchange of data and analysis - something which had not previously been possible because of the variety of research approaches used.
Each organisation has played a key role in the global research network, including raising awareness of the food alternatives to crops vulnerable to whitefly (for example virus-resistant sweet potatoes in affected cassava-growing regions); reducing widespread abuse of pesticides that harm the environment (for example by making available virus-resistant germplasm); and promoting high-value crops for small-scale farmers working on small plots of land. Farmers themselves are involved in discussing and testing out the project's theories and findings, bringing their own knowledge and expertise as the project unfolds and in the process, becoming the agents of dissemination in their own communities and networks.
By engaging many different kinds of institution in a global research network, lesson-learning and dissemination has been written into the project from its inception. The project has influenced research agendas and agricultural policy in more than 30 countries.
More information
See the DFID project record for Sustainable Integrated Management of Whiteflies as Pests and Vectors of Plant Viruses in the Tropics: Phase 2 - Network Strengthening, Pest and Disease Dynamics and IPM Component Research
Published 28 March 2006