DFID Research: strengthening the application of social sciences in malaria control
Effective malaria control is about understanding the people affected as well as science.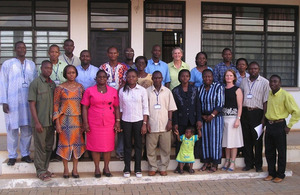 Effective malaria control relies not only on understanding the vector and parasite but also on understanding the complex interplay of socio-cultural, economic, political and environmental factors that influence the behaviours of both those who suffer from malaria as well as those who provide health care for the disease.
Until recently the inputs from social science to the design and development of malaria research and control programmes have been limited. The situation is exacerbated both by the lack of understanding among malaria control programme personnel of social science methods and approaches, as well as by the scarcity of social scientists in sub-Saharan Africa who have expertise in working on malaria related policy and programme development.
To address this gap and fulfil the need expressed by many public health professionals in national malaria control programmes a collaboration, the Partnership for Social Sciences in Malaria Control (PSSMC), was established in 2001. One of the activities of the PSSMC has been the development of a partnership with the School of Public Health (Legon, Ghana), the Ghana Health Services, and the Ghana Malaria Centre, to design and run a training programme which brings together social scientists with people working in malaria control to develop and implement malaria control programmes and policy.
The crucial and unique feature of the capacity development course is that people are required to participate as multidisciplinary teams (for example national malaria control programme personnel, and/or district and regional level health officers, together with junior social scientists, policy makers and planners) rather than as individuals. District, regional or country teams apply with a draft operational research or implementation proposal and during a 3-week classroom based course these proposals are finalised and implementation plans developed. Over the following 12 months, the teams return to their home locations and implement their plans. The programme is completed with a post-intervention evaluation.
The key factor that underlies the success of the programme is that it was developed from the expressed need of the people who are charged with developing and implementing malaria control programmes. In addition, the development of the programme has been a collaborative effort involving the health service, the national malaria control programme and research personnel, involving inputs from all the key stakeholders. The development of the PSSMC and the capacity building course have been supported by the DFID Malaria Knowledge Programme and the DFID Team for Applied Research to Generate Effective Tools and Strategies (TARGETS) consortium. Primary funding for the implementation of the capacity building course was provided by the Gates Malaria Partnership at the London School of Hygiene and Tropical Medicine.
Published 22 November 2006