DFID Research: Sexual and reproductive health concerns of married men in rural Bangladesh
Research explores sexual and reproductive health concerns of men in a poor rural district of Bangladesh.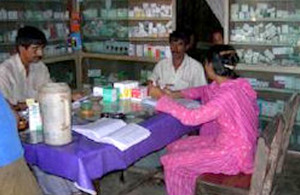 Research by the Realising Rights RPC explored men's sexual and reproductive health concerns and the quality of access to different types of providers in a poor rural district of Bangladesh. 693 married men were interviewed and 60% of these stated that they had sexual and reproductive health concerns, both biomedical and psycho-social.
Performance, penis size and loss of sexual power were the main causes of concern, and led to worries about infidelity, divorce and being ridiculed. Interviews were carried out in a longstanding and respected demographic surveillance site. People were familiar with being asked questions, and this undoubtedly enhanced men's willingness to discuss potentially sensitive issues. The interviews were carried out by local men, trained as part of the project. These field workers managed to get a good rapport with respondents, both service users and providers.
One interviewee, 38 years old "Majid", had been married for 7 years. His wife was 26 years old and they had three children aged between 6 and 3 years. Majid experienced several sexual and reproductive health concerns. He suffered from nocturnal emission for 5 years and was unsatisfied with sexual intercourse. "Without [sexual] satisfaction nothing feels good enough. The duration of intercourse is long but I do not get satisfaction from it. Sometimes I ejaculate and am not aware of it." He went to a healer, a herbalist and finally a local doctor for help. Majid kept his problems from his wife, scared that she might look down on him.
The research examined where the men sought services from and questioned informal providers who are most frequently consulted, rather than limiting its scope to the formal sector. It was found that men explore multiple options of care ranging from self-care to folk and western biomedicine, spending substantial amounts of money on treatments. While formally qualified doctors were acknowledged by many informants to provide the most appropriate treatment, most could not afford to consult them. Informal providers were favoured for their convenience and sympathetic approach. The informal providers themselves claimed expertise in specific sexual and reproductive health conditions and had built a large client base through local reputation.
This study has also proved important, because it is one of the few studies that have examined the link between men's sexual health concerns and domestic violence. Given the power relationship between men and women in Bangladesh, if a woman refuses sexual contact with her husband for any reason, the husband's reaction can be angry and lead to violence, including forced sex. This suggests that if men's sexual health needs were more adequately met, more amicable relations between husbands and wives might exist, decreasing the likelihood of violence related to sexual dysfunction as well as decreasing the incidence of sexually transmitted infection.
This research addresses a neglected and often stigmatised area of health and provides useful evidence for developing interventions in Bangladesh. It informs an emerging debate at both national and international level about the neglect of men's sexual reproductive health in primary health care services and the need to rethink service provision. It also contributes greatly to evidence on the impact of men's health on the well being of women, by looking at the concerns of both men and women.
Published 6 January 2011