DFID Research: Rural Africans gaining access to AIDS treatments
Anti-retroviral therapy made available for AIDS sufferers in Tanzania.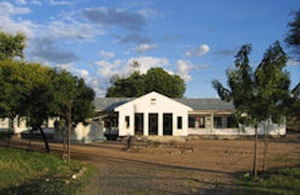 A study in rural Tanzania is examining the uptake and impact of anti-retroviral therapy (ART), as health workers try to limit the spread of HIV/AIDS. The project is named TAZAMA, after the Swahili verb kutazama, meaning "to search" - this reflects the fact that the research aim is to search for ways in which the AIDS epidemic can be brought under control, by preventing new infections and providing treatment for those already infected.
The TAZAMA project monitors a population in a rural area of North West Tanzania. Information is collected on the demography of the population, and their vulnerability and response to the HIV epidemic. The study area has a population of around 30,000, and an HIV prevalence in 2004 of about 8%. A cohort study starting in 1994 conducted interviews and blood tests to determine the prevalence and spread of HIV. The three main activities now being pursued are a demographic surveillance system in which data are collected every 4 to 6 months; a community serological survey every 3 years; and Ante Natal Clinic HIV surveillance which extends to neighbouring areas of Magu district and Mwanza town.
In the current project, voluntary counselling and testing is leading to referrals for ART. In the first 12 months of operation, 38 HIV infected persons began ART. Since then, another 172 have taken up ART referrals, bringing the total under treatment to 210. Interestingly, higher proportions of HIV infected men than women seek counselling and testing services and find out their status; however, among those who learn that they are infected, higher proportions of women than men initiate anti-retroviral therapy. Reasons for not taking up ART after testing positive include denial of HIV status, limited understanding of HIV disease progression, and local beliefs that HIV is a curable illness caused by witchcraft.
Without the TAZAMA project, people from the rural study area would not be considered eligible for treatment in the ART clinic at Bugando Medical Centre, as the municipal service is unable to trace treatment defaulters living in rural areas. However, as the study can offer tracing and follow-up services, residents of the Kisesa study area were deemed eligible. As the only community-based study in Africa examining the ART referral process, the information gathered on who tests, asks for referral, and eventually takes and stays on ART, will help develop other programmes for HIV/AIDS treatment in rural Africa.
DFID involvement in the project comes through the Evidence for Action programme, which aims to increase knowledge on how to design and implement HIV prevention, treatment and care programmes in resource poor settings.
Published 14 May 2008