DFID Research: Protecting African cattle from East Coast fever
Countries across Eastern, Central and Southern Africa could benefit from local production of vaccine against East Coast Fever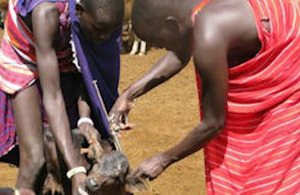 The production and delivery of a vaccine against East Coast fever (ECF) for use across 11 countries of eastern, central and southern Africa could save the lives of over 1 million cattle and at least US$260 million each year.
ECF, a tick-transmitted disease, threatens more than 25 million cattle across eastern and southern Africa. Calves are particularly susceptible to the disease. Currently 20 to 50% of unvaccinated calves in many Maasai herds in northern Tanzania will die from the disease. It also significantly impacts smallholder dairy farmers who rely on just a few cows for their income. Although an effective vaccine against ECF was first developed more than 30 years ago, it has not been widely applied, partly because the vaccine has to be stored in liquid nitrogen, and animals require simultaneous treatment with antibiotics. It is thus a relatively expensive procedure (up to US$10 per animal).
With funding from DFID and the Bill & Melinda Gates Foundation, GALVmed (Global Alliance for Livestock Veterinary Medicines) is working with the International Livestock Research Institute to make the ECF vaccine more accessible and affordable to livestock keepers by exploring ways of transferring its production and supply to the private sector through local manufacturers and distributors.
Read the full version of this case study.
Key reference: 
GALVmed (2010) Fostering commercial innovation for better animal health, in DFID Research 2009-2010: Providing research evidence that enables poverty reduction, p.29, DFID: London
Published 17 March 2011