DFID Research: Missed opportunities
Linking women who test HIV positive in antenatal and maternity services to long-term HIV care and treatment services in Kenya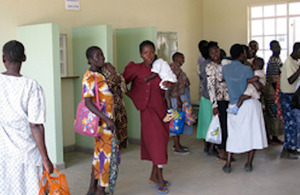 Unless the prevention of mother-to-child transmission (PMTCT) services in Kenya are changed and improved there is likely to be an increasing maternal orphan rate. Despite having taken steps to reduce the rate of mother-to-child transmission of HIV in Kenya, maternal care is still limited in its provision. Research found only 5% of women who tested positive for HIV during pregnancy, and required highly active anti-retroviral therapy (HAART), were receiving treatment six months later. This "missed opportunity" is more pronounced when it is considered that the women were already within the health care system.
A collaborative approach was taken by partners of the Evidence for Action RPC (HD11) programme to identify where problems occurred in the patient pathway and how patient drop-out could be minimised to increase treatment. The pathway consists of initial testing, then registration with a clinic, a CD4 test and finally initiation of HAART treatment, if necessary. The project evaluated hospital records in Naivasha's two district hospitals between 2008 and 2010, combining qualitative and quantitative data. It identified the barriers that stopped women accessing HAART treatment and discrepancies between the two hospital's treatment statistics.
The report suggested that PMTCT data needed improving as reporting practices were inadequate and tended to hide the need for better maternal care, meaning it was difficult for hospital staff and policy makers to recognise this gap. These findings were presented to national level policy makers and hospital staff, and have already had a positive effect, resulting in a change of practice within the hospitals. This means women are now linked directly to the HIV clinics, instead of a high risk maternity clinic, to simplify the pathway and reduce attrition rates. Access to treatment for women diagnosed with HIV during pregnancy has also been increased.
The Evidence for Action project works specifically on maximising the equity and benefit of HIV treatment and care systems, its aim is to combat the death of 25 million people since the start of the HIV epidemic. Further research has been planned in the form of three follow on projects to explore those "missed opportunities" associated with not offering better maternal care.
Published 18 August 2011