DFID Research: Living with ART
A qualitative study of the lives of people living with HIV who have been taking antiretroviral therapy for more than one year in Wakiso District, Uganda.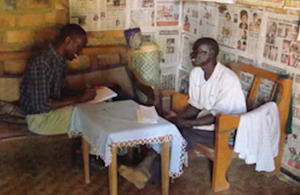 The use of Anti-retroviral therapy (ART) allows HIV sufferers to adjust to a 'normal life' that is not defined by a disease. Reintegration with family and counselling allows the sufferer to change their view of HIV from a terminal illness to a manageable chronic condition. However there are medical, social and economic problems with adjusting to a life on ART.
A series of qualitative research was carried out in Uganda as part of the Evidence for Action RPC (HD11) programme. The aim of the project was to collect information on the social factors surrounding a life on ART that would inform new delivery programmes, influence policy debate on scaling up the supply in resource poor areas and prompt further research. The research was conducted through a government hospital which meant patients were easy to track over a prolonged period of time. The focus on the social factors of a long term life on ART, opposed to the bio-medical impacts, was novel. The research methods included in-depth interviews, life history calendars and observation techniques.
Obstacles to ART presented were: nutritional problems, the drug burden or stigma and health care inaccessibility due to economic issues. These gave an insight into the unique needs of each case of HIV and how to tailor future healthcare packages. The research also highlighted that men did not continuously access care at the same rate as women. In fact, in this study only three men completed all scheduled visits, with the majority dropping out without consultation. This suggests that men were either reluctant to access care or that the nature of their work complicated access.
These problems could be overcome through the increased self-management of care. This would also help overcome the human resource issues associated with healthcare in Uganda, which is currently holding back the much needed scale up of ART in resource poor areas.
Published 18 August 2011