DFID Research: Lay workers vital to support HIV/AIDS treatment in Zambia
DFID-funded research highlights the role played by home-based care givers in helping people living with HIV/AIDS.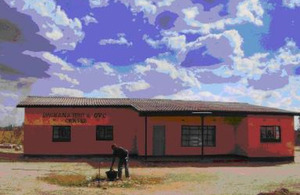 In Zambia, the formal health system relies to a great extent on an army of lay health workers, including home-based caregivers, to identify people living with HIV/AIDS (PLHIV) eligible for antiretroviral therapy (ART), accompany them to the clinic, and monitor and support them on treatment. These care providers play a vital role in supporting formal systems, yet vary widely in their qualifications, experience, and remuneration for the tasks they are expected to do.
A study in Zambia, funded by the Evidence for Action programme, examined the role of 3 NGOs providing home-based care for PLHIV in order to understand the changes in scope, tasks and impact of home-based care in the light of ART rollout. The study provides insights into the day-to-day operations of home-based care, including the activities of caregivers and their relationships with households affected by HIV.
Caregivers overwhelmingly talked about the positive effects ART had on their clients, and the resulting decrease in their workload. The research found that the role of home-based caregivers has become more 'medicalised' since the introduction of ART. In addition to care and support in households, they are now involved directly in enabling and sustaining access to ART for PLHIV through tasks including: identifying, referring, and accompanying patients for testing and initiation on to ART; treatment counselling, adherence support and monitoring patients on ART. Home based care givers increasingly support the formal health system, and effectively create lasting linkages between PLHIV and the ART clinics. However, as caregivers no longer provide food subsidies, and less physical nursing care is required, some PLHIV feel that treatment support does not amount to care as previously provided.
The findings of this study provide recognition and strong evidence for the important role of home-based care providers - often underpaid and undervalued - in supporting formal health systems for ART delivery. It is hoped that recommendations from the study will inform the updating / creation of minimum standards, regulations and national policies on Home Based Care in Zambia. The evidence of the importance of the role of these care providers can also be used in fund raising, and while information on changing roles of the care providers helps community-based organisations tailor interventions and training.
Published 19 February 2010