DFID Research: insecticide-treated nets reduce foetal loss in pregnancy
A DFID-funded systematic review shows the benefits of treated bed nets.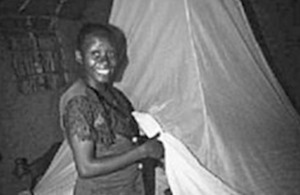 Pregnant women in Africa using insecticide-treated nets have lower levels of malaria, abortions and stillbirths and their babies have higher average birthweights.
Evidence from a recent DFID-funded systematic review developed through the Effective Health Care Research Programme shows that African women in their first or second pregnancy can reduce the risk of foetal loss and low birthweight if they use insecticide-treated nets.
Insecticide-treated nets are already promoted but this is the first evidence about their impact on reducing foetal loss. The results of the review will help policy makers prioritise the use of insecticide-treated nets by pregnant women.
DFID-funded researchers at Makerere University, Uganda, Liverpool School of Tropical Medicine and Liverpool University included 5 trials with 6,759 participants in Africa and Thailand in the review. The individual trials compared insecticide-treated nets with no nets or untreated nets.
The technique of meta-analysis, pooling the results of the trials, showed the impact on foetal loss, not apparent in any of the trials individually.
Reference
Gamble C, Ekwaru JP, ter Kuile FO. Insecticide-treated nets for preventing malaria in pregnancy. Cochrane Database of Systematic Reviews 2006, Issue 2. Art. No.: CD003755. DOI: 10.1002/14651858.CD003755.pub2.
Published 25 April 2007