DFID Research: Improving food security in sub-Saharan Africa through greater use of indigenous vegetables
Scientists, extension workers, farmers and consumers benefit from a project which significantly contributed to knowledge on African indigenous vegetables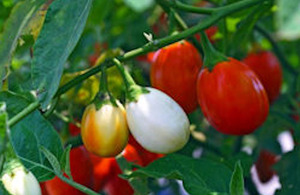 For the poorest communities across Africa, indigenous vegetables form a crucial part of household food security, and are an important source of food and income generation. Over the past twenty years, international and national support to agricultural research has focused on a narrow band of cash-crops and internationally traded fruits. Vegetable crops, although providing an important contribution to a balanced diet, have received comparatively little attention.
A project led by the The World Vegetable Center (AVRDC) and the Natural Resources Institute (NRI) aimed to increase knowledge and learning on African indigenous vegetables (AIVs). The project, Improving food security in sub-Saharan Africa through increased utilisation of indigenous vegetables: studies on seed production and agronomy of major African vegetables, sought to explore appropriate production techniques for target species and to fully exploit the nutritional values they can offer.
Over the course of the project, germplasm from 193 species of AIVs in Cameroon and Tanzania was collected, characterised and purified with the aim of producing a high quality base or "breeder seed" in order to develop appropriate production techniques for target species.
From the results of this research, cultivation practices for the selected crops were developed and commercial seeds were produced and distributed to target groups. Results showed that the collected AIV germplasm increased the probability of high yielding and stress tolerant genetic material with high nutritional and medicinal value. The collected germplasm will also help biodiversity security, and the 193 accessions of AIVs are being maintained at the AVRDC and the University of Dschang, Cameroon. Preliminary descriptor lists for African eggplant, African nightshade, Brassica carinata and spider flower are available.
An important element of this project has been to ensure that both scientific and local knowledge gathered through the research has been disseminated and shared widely. To carry this out, the project findings for six of the crop species were written up into 60,000 advisory leaflets in French and English, which were disseminated to National Agricultural Research Systems, NGOs and farming communities. As the original germplasm came from a variety of locations across sub-Saharan Africa, it was ensured that the information not only reached the areas surrounding Tengeru and Dschang, but was also distributed throughout West, Central and East Africa.
Scientists, extension workers, farmers and consumers have benefited, with improved lines of indigenous vegetables providing the possibility to raise vegetable productivity and value, resulting in higher income and increased nutritional status of the farmers in the targeted regions.
AVRDC and NRI will pursue further work on African indigenous vegetables and will disseminate information on these commodities to institutions or individuals when requested.
Published 8 March 2011