DFID Research: Herpes treatment trial requires trust to be successful
Patients trust in a trial of acyclovir genital herpes treatment has been shown to be crucial to its success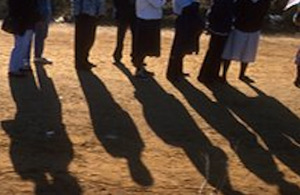 A trial of acyclovir treatment of genital herpes in South Africa has shown that it is crucial that participants have confidence in the team running the trial.
One herpes sufferer said of the clinic staff: "They helped me because they managed to sit down with me and they said that this is not the end of the world, you can continue with your life and when I told them about my status they did not discriminate against me or talk negatively about me." Another highlighted the importance of the staff having an encouraging attitude: "I think it helped me because when I thought about coming to the clinic I knew that I am going to be laughing and talking to people who care about me and I loved to come to the clinic".
These trials showed that acyclovir is effective in treating genital ulcer disease in Africa, can slow HIV disease progression, but does not prevent the acquisition or transmission of HIV. The researchers say that although there was no success against HIV in this trial, the investments in building partnerships and communicating these research results to a broad range of stakeholders did lead to some positive outcomes. Ultimately, a greater sense of trust was built between researchers, the community and policy-makers creating an enabling environment for future research partnerships for HIV prevention.
As a result of the trial people in relevant communities in South Africa know more about HIV and its relationship with herpes simplex virus-2 (HSV-2, which causes genital herpes) and also about the importance of couples counselling and testing for HIV. Thousands of participants were counselled and tested for HIV prior to participation in these trials. People with HIV and in need of treatment have been identified and referred to HIV treatment services in the community. The results of these trials have led to the introduction of acyclovir as a first-line therapy for genital ulcer disease as part of the management of sexually transmitted infections at a primary health care level in South Africa. Also, a potential role for acyclovir as an adjunct therapy for HIV has been identified.
More information
These Studies were carried out by the DFID-fundedResearch & Capacity Building in Sexual & Reproductive Health & HIV in Developing Countries RPC, which involved the Reproductive Health & HIV Research Unit, University of the Witwatersrand, National Institute for Communicable Disease, South Africa, London School of Hygiene & Tropical Medicine and the Department of Global Health, University of Washington, Inserm U430, Paris.
See also this journal article, Impact of aciclovir on genital and plasma HIV-1 RNA in HSV-2/HIV-1 co-infected women: a randomized placebo-controlled trial in South Africa.
Published 29 January 2010