DFID Research: Environmentally friendly control of eggplant borer in India and Bangladesh
The use of hazardous pesticides used to control eggplant borer has been reduced by the introduction of an integrated pest management system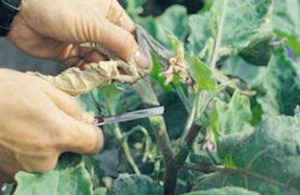 Affordable, environmentally-friendly pest management developed in India and Bangladesh to protect the region's popular eggplant crop has reduced dependence by poor farmers on harmful pesticides, increasing profits and influencing policy to benefit businesses and spread the message.
Eggplant, one of the few affordable and nutritious vegetables available year-round in South Asia, is vulnerable to attack from the destructive eggplant fruit and shoot borer (EFSB). Integrated pest management (IPM) options were investigated by the World Vegetable Center with partner organisations in India and Bangladesh to reduce costly and intense use of hazardous pesticides by developing female moth-borne sex pheromone lures and traps to kill male borer moths. The technology has been combined with other pest management techniques, including healthy seedling production; prompt removal and destruction of infested shoots and fruits at regular intervals; and withholding of chemical pesticides to encourage natural enemies. As a result, pesticide use has dropped by up to 75%, reducing production costs and increasing incomes. Commercialisation by small and medium enterprises in India, which advertised the affordable lures, has resulted in farmer uptake beyond the project area. Since 2009, Bangladesh's parliament has been in the process of passing a law to facilitate registration and use of sex pheromones for pest control.
Read the full version of this case study.
Key references:
Alam, S.N., M.I. Hossain, F.M.A. Rouf, R.C. Jhala, M.G. Patel, L.K.Rath, A. Sengupta, K. Baral, A.N. Shylesha, S. Satpathy, T.M. Shivalingaswamy, A. Cork and N.S. Talekar, (2006) Implementation and promotion of an IPM strategy for control of eggplant fruit and shoot borer in South Asia, AVRDC Technical Bulletin No. 36.
Baral, K., B.C. Roy, K.M.B. Rahim, H. Chatterjee, P. Mondal, D. Mondal, D. Ghosh, and N.S. Talekar, (2006) Socio-economic Parameters of Pesticide Use and Assessment of Impact of an IPM Strategy for the Control of Eggplant Fruit and Shoot Borer in West Bengal, India. AVRDC Technical Bulletin No. 37.
Published 18 March 2011