DFID Research: Creating genetic markers to breed downy mildew and drought resistant pearl millet
How food security can be improved through collaborative research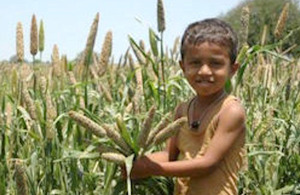 Two million people enjoy improved food security thanks to a collaborative research programme which used molecular genetic tools to develop an improved pearl millet hybrid more resistant to the disease downy mildew.
Food security in some of the hottest, driest and least food secure areas of India is threatened by downy mildew disease, which causes 30% production losses nationwide in pearl millet at a cost of some US$8 million during regular disease outbreaks. Between 1990 and 2005, new techniques of genetic marker-aided selection helped to advance the development of pearl millet hybrids more resistant to this disease.
Breeders improved downy mildew resistance of the parental lines of an existing popular hybrid through conventional and marker-aided selection. The laboratory process accelerates the development of one improved parent by several years, without the need for testing in the field. A resulting hybrid, evaluated and chosen by farmers, is both more downy mildew resistant and higher yielding, and is now available around the country and promises to protect farmers from the past "boom-bust" cycle of pearl millet hybrid cultivation in India. Further improvement of this hybrid for new traits such as improved drought tolerance using this technology is underway.
Read the full version of this case study, written by WRENmedia.
DFID Funding
A series of research grants from DFID's 'Plant Science Research Programme' largely funded marker development, linkage map construction, and initial disease resistance QTL (Quantitative Trait Locus) discovery, conducted in the UK; marker-assisted backcross improvement of hybrid parental line DM resistance at the 'International Crops Research Institute for the Semi-Arid Tropics (ICRISAT)' and initial trials by ICRISAT and its national programme partners to identify the best improved hybrids. More than 15 years of support from DFID was a critical contributing factor to this success story.
Further funding by DFID under the Biotechnology and Biological Sciences Research Council (BBSRC) 'Sustainable Agriculture Research for International Development (SARID)' initiative will look at genes and gene behaviour in different conditions to develop tools to simplify and increase the precision of breeding for increased drought tolerance in pearl millet. Their findings will help play a significant role in increasing crop production not only for pearl millet but also for other crops grown in water-stressed environments globally.
Key Reference
Hash, C.T. (et al) Teamwork delivers biotechnology products to Indian small-holder crop-livestock producers: Pearl millet hybrid "HHB 67 Improved" enters seed delivery pipeline. SAT e-Journal (2006) 2 (1) 3 pp.
Published 18 March 2011