DFID Research: Cooperating to reduce violence in North-East India
A workshop bringing together government officials and community members has helped to ease tension and reduce violence in the state of Assam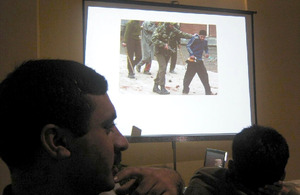 Assam is a multi-cultural state that has had a troubled past amongst its people. One such incident that occurred in the Darrang and Udalguri District of Assam in October 2008 saw violence erupt between the indigenous community and the immigrant community. In the post-conflict situation, Panos London's Relay programme, which is funded by DFID, organised a workshop called 'Sources of communal conflict and solutions' with a view to easing heightened community tensions and restoring peace. The workshop brought together academics, civil society organisations, media, government officials and people from affected communities.
"The purpose of the workshop was to restore normality and a feeling of ease in the post conflict situation by dialogue between communities with help from an outside resource," said Arup Joyti Das, who coordinates the Relay programme in North-East India.
Relay has developed a strong reputation in the region as a neutral intermediary who can provide safe spaces for multi-stakeholder dialogue and debate. Relay was approached by media houses, civil society organisations, researchers and individuals to collaborate in organising this workshop. The idea presented by one such group - the Progressive Media Collective - was to cut through the tension by creating a safe environment for people to talk openly about the conflict from different perspectives, to create new ways of thinking and talking about tensions and solutions. Abdul Batek the General Secretary of the All Assam Minority Students Union was pleased with the workshop:
"We (the conflict communities) talked with each other, argued with each other and also had lunch together during the workshop. This friendly environment was possible only because of the workshop. I think this is the best sign of a tension free society. During lunch, we forgot that we were fighting with each other just few months back. We continued in this spirit of peace and harmony till today despite the fact that the situation is still very sensitive."
The workshop embodied Relay's belief in connecting journalists and researchers with the public, creating new and alternative discourses. The workshop opened up new channels to communicate information from the media to communities and vice-versa. Manoj Nath, a Staff reporter for Janashadharon an Assamese Daily newspaper commented:
"In the post conflict scenario of this area, it was the first time that Civil Society Groups belonging to conflicting communities came together to talk with each other and participated in meaningful dialogue. This has laid an important step for peace building in this area. This is surely an encouraging moment for all of us, as well as a most important gain for us."
The workshop's dialogue and analysis of the post-conflict situation was covered by an English language newspaper in Assam, The Sentinel.
Published 9 November 2009