DFID Research: battling army worms in Tanzania
New pest control methods help to protect maize crops.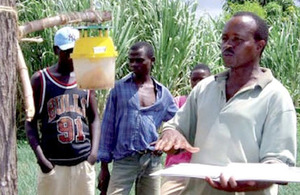 A collaborative Army Worm Novel Control Project funded by DFID's Crop Post-Harvest Programme has helped farmers stop monstrous columns of marching black caterpillars (known as army worms) from devouring their maize crop during the rainy season.
The project has demonstrated that community forecasting packs can give farmers the advance warning they need to take speedy and effective action against an invasion of army worms. The forecasting packs include a rain gauge, guidance notes and potent traps baited with a pheromone secreted by female army worms. The number of males caught provides an indication of worm populations. If the populations are rising and rainclouds loom, local farmers begin intense monitoring and undertake environmentally-friendly control measures as soon as they see army worm larvae on their maize leaves.
A relatively low-cost, environmentally-friendly way to control army worms was developed by project scientists. They found that NPV, or Nucleopolyhedrovirus, is a disease that kills up to 98% of army worms but affects no other plant or animal. NPV naturally occurs only after the worms have consumed the crops, but project scientists found that the diseased worms are highly infectious even after their death. This means that the diseased worms can be ground into powder, stored, and then sprayed on crops (with any new casualties turned into powder in their turn). At $1 per hectare, the NPV method is much cheaper than chemical insecticides.
"By shaking the maize leaves we find the very young larvae" says local maize farmer Rogati Kiwale. "And if we see the larvae then we take control measures immediately."
Published 28 November 2006