DFID Research: An evidence-based response to the global food crisis
The International Food Policy Research Institute has published much of its research findings in response to the global food price crisis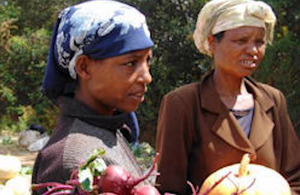 As the food price crisis became global news during 2007 to 2008, the International Food Policy Research Institute (IFPRI) was able to respond quickly and effectively by producing 30 publications based on its extensive research findings. The Institute's analysis of trends, provision of data, and policy recommendations led to seven of IFPRI's eight recommended urgent actions appearing in the United Nations' Comprehensive Framework for Action on food security.
When global food prices began to rise in 2007, the International Food Policy Research Institute (IFPRI) was one of the first institutions to warn of an impending global food price crisis. With an extensive research portfolio and expertise ranging from markets and trade to nutrition and food consumption, IFPRI was well placed and well prepared to answer questions from the public, media, and policymakers with regard to "What happened?" and "Why did it happen?" The Institute provided evidence-based information through a coordinated communication campaign to inform policy debates through publications, media interviews, face-to-face meetings with policymakers, testimony before legislators, press releases, and the communication of research findings through the internet.
IFPRI also provided innovative and workable recommendations on what could be done to mitigate the effects of the food price crisis and to help prevent such a crisis from reoccurring. Evidence-based policy recommendations, developed by a large number of IFPRI staff working closely together, were used as the basis for discussions at several high-level meetings and summits, including a joint UN-FAO High Level Meeting on Food Security for All.
Read the full version of this case study, written by WRENmedia.
DFID Funding
DFID's project-related and core funding to IFPRI over the years has helped the Institute build key research results on food security as well as the communications tools that allowed it to respond rapidly and effectively to the food price crisis - thereby ensuring the influence and impact of IFPRI's research in critical global, regional, and national policy debates.
Key References:
IFPRI, (2009) Food price crisis: IFPRI's response and influence, CGIAR briefing paper
Von Grebmer, K., and I. Hovland, (2009) Using 'systems awareness': a proposed mechanism for monitoring communications. Evidence & Policy: A Journal of Research, Debate and Practice, 5(3): 295-303
Von Grebmer, K., B. Nestorova, A. Quisumbing, R. Fertziger, H. Fritschel, R. Pandya-Lorch, and Y. Yohannes, (2009) 2009 Global Hunger Index, IFPRI, Deutsche Welthungerhilfe (German AgroAction), Concern Worldwide
Published 18 March 2011