DFID Research: a new approach to fisheries management
A new learning approach gives better community fish-stock management.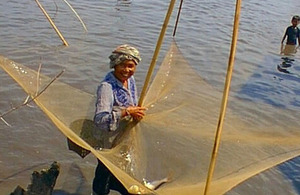 A DFID-funded fisheries programme has developed a new learning approach towards better community fish-stock management. In Lao PDR, the benefit of adopting the approach was equal to some US$250 per hectare, resulting in a number of community initiatives.
Fisheries are complicated, diverse, and constantly changing - which makes them difficult to understand and manage. Certain advice applies only in certain areas, and in such a dynamic environment, extension staff can be unsure what information to give to local communities - or unaware of the correct advice. So, the Fisheries Management Science Programme, developed a collaborative approach, to help local communities, extension staff and researchers better understand their fisheries and develop locally relevant management.
Casting the net wider
Rather than presenting information, the 'adaptive learning' approach has been to encourage collaborative learning by researchers, local communities, and extension staff. That's because it is the local communities who know what information they need, and researchers and extension staff can help them generate this information and share it with others. In the People's Democratic Republic of Laos, local communities were interested in understanding which fish species to stock in certain conditions. Collaborating to find out the answer has been a very valuable process. Mr Khamsouk, a district worker in Laos PDR, says that the main thing he learnt was about stocking. "For example putting tilapia in green water, and if it is not green water, then better to put in some carp".
Making the most of it
The approach and the new knowledge, skills and practices that have resulted have encouraged better management of community fisheries, generating income to provide a school, or maintain a temple. In Lao PDR, 38 villages have benefited from increased income. They have invested in electricity, clinics - and at the same time, working together as a community has increased village solidarity. Government staff and extensions workers, through working directly with fishing communities, have a better understanding of what constraints and opportunities fishers face and are better placed to support the communities in the future.
The ripple effect
It does not stop there - building upon knowledge, and adapting it for the future, is essential to better management. The learning tools developed through this programme have been promoted to reach International development organisations and government agencies - so that they are better able understand the needs of those who depend upon fisheries for their livelihoods. And these results have been replicated in other places too - in India, roughly 1550 fishers have benefited from yields which have increased by up to 15%.
Published 30 January 2007